I think Spring is possibly the most anticipated season of the year? There's always an excitement when you spot the first daffodils or spring lambs and these spring crafts for toddlers are a great way to share that excitement with younger kids!
We love sharing crafts for toddlers and have shared so many on our site that parents have loved creating with their kids and enjoying some special time together, I hope you'll enjoy these easy and fun ideas just as much.
We have included affiliate links to some of the products and resources and as an associate we may earn from qualifying purchases.
What You'll Find on This Page
Spring Crafts for Toddlers Crafts
In this round up you'll find loads of springtime crafts for one, two and three year olds including ones that I've made with my kids and ones from some of my favourite other bloggers.
Obviously there can be a lot of difference between what a child who has just turned one and a child who has just turned three or preschooler can do (and a lot of difference between kids the same age!) so take a look through the list and find the ideas that you think your child will enjoy the most, after all no one knows your child like you do!
While these crafts are aimed at toddlers you'll also find some included that are good for older kids too. My daughter made some of these when she was in  but she still has a blast making now she's older, so if you have kids of different ages at home there should be some ideas that you can try just grab your construction paper, markers and googly eyes and get ready to have some fun!
As well as the easy spring crafts I'm sharing today you'll also find some ideas for spring themed stories to share with your child and at the end of the post you'll find some more of our most popular crafts for toddlers to try another day.
Want to make sure you remember all the ideas here? Make sure that you bookmark this page or pin an image so that you've got them all on hand right when you need them.
Free Templates for Spring Crafts
We've shared a few PDF templates that are perfect for quick to set up spring crafts for toddlers and of course we've shared a lot of ideas about how you could use them too!
If you'd like to try out our easy ideas then why not grab one of these:
Spring Books for Toddlers
We love sharing books together and it's a great way to wind down after a busy arts and crafts session.
My kids have always loved books on a theme and we've always used one of these bookcases to make it easier for them to find the ones they'd like to read.
These spring themed books all look great fun and perfect for toddlers – which would your toddler choose to share with you?
Spring Craft Ideas
Sadly spring isn't all about sunshine (I wish!) so this paper plate umbrella craft is a good one to make with toddlers if you have a rainy day.
Make and decorate this pretty butterfly craft that's a great way to use up old packaging.
This simple flower craft is a great way for younger kids to practice their scissor skills.
Make a simple rainbow craft with this tutorial from School Time Snippets for blotto rainbow art.
A Dab of Glue Will Do has lots of sweet crafts kids can make and here they share a lovely tutorial for making printed flowers using a potato stamp.
Make this cute paper plate bee craft from Non-Toy Gifts.
Create some nature inspired paper butterflies! This spring craft idea is one that I did with my daughter and is a great excuse to get outside too.
Easy art projects are always welcome and this rain art uses real raindrops and our free template for a simple craft that kids can make.
Make some gorgeous spring flowers that you'll want to display! This coffee filter flower craft is so pretty and uses process art to create the colors, meaning that it's perfect for toddlers and preschoolers to join in with and you could make a lovely bouquet of them too.
Use white wax crayons to make these paper plate flowers. This is such a cool painting technique to try out and would make a great spring art project.
I adore this yarn wrapped rainbow that School Time Snippets made with her toddler, it's great for colour recognition and just so pretty!
My daughter made this paper plate sun when she was a toddler and it's so cheerful it always puts a smile on my face as well!
These easy mosaic flowers with scrap paper and glitter cardstock are a good way to practice scissor skills too.
This easy chick craft is super easy to paint and looks super cute too, perfect for the spring season!
Fun With Mama shares a sweet invitation to create egg carton spring bugs using pipe cleaners.
Encourage kids to get into gardening by making these paint poured flower pots – these would make great gifts too!
Views From A Step Stool shares a gorgeous rainbow streamer craft.
Make a super cute doily rabbit craft.
My daughter made this ladybird craft when she was two years old.
This sponge printed sheep craft is great for toddlers as they can easily grab the large sponge and parents can help cut out the parts of the sheep.
The Best Ideas for Kids shares a tutorial for making some cute butterfly handprint cards.
These flower suncatchers from Messy Little Monster use real flowers and are great for working on fine motor skills too.
Our cotton ball sheep craft uses our free sheep template to make setting up this activity super easy and it's perfect for little hands to make.
Grab our free printable template and make this spring blossom Chinese lantern craft.
Anything that might make a little mess is always good for fun spring crafts so why not make these easy paint splat paper plate butterflies.
Grab our free rainbow template and make this easy rainbow crafts for kids.
Make a simple paper plate chick using a paint splat.
Make this simple paper plate spring tree craft with it's cute tissue paper cherry blossom.
Use old CDs or DVDs to make this simple chick craft.
Use our free template to make some spring tree crafts for kids.
Make a pom pom printed sheep craft for toddlers.
Create some cherry blossom with this spring tree craft using Duplo.
Grab the cotton balls and make some yogurt pot sheep.
This button flower craft is a good way for young kids fine motor skills too – my daughter made these when she was two but I would use larger buttons with young kids, supervise and obviously skip this one if you have a child that likes to put everything in their mouth (my daughter was fine with this but also used to run across playgroups to try and eat playdough so I do know that all kids are different!)
Grab some cotton wool for this super easy sheep craft.
I love this spring chick craft from Teaching 2 and 3 Year Olds that's good for fine motor skills aswell.
The Gingerbread House has a lovely post on creating flowers with recycled cardboard which is a great way for kids to do some painting.
Non-Toy Gifts shares how to make a simple coffee filter ladybird.
Make some egg carton bird feeders and let your toddler decorate them.
This tutorial for making paper plate ladybirds is super cute too!
This cute craft from Red Ted Art is a great way to share about spring colours with toddlers.
Fun Handprint Art shares a tutorial for making handprint flowers.
I love this sweet toddler-made handprint butterfly craft from Fun Handprint Art
This thumbprint rabbit craft would be great for Easter as well as spring.
There's some printed flowers made with toilet paper rolls elsewhere in this post but this is another way to make them from 3 Dinosaurs and I love that both ideas are done so differently but both look great!
April showers are followed by better weather and of course rainbows! This paper plate rainbow from Happy Hooligans is perfect for toddlers and preschoolers and looks really cheerful too.
This paper bag butterfly craft from I Heart Crafty Things would make a great puppet to play with too.
Toddlers and preschoolers can paint the egg cartons to make this cool 3D flower craft from Buggy and Buddy.
More Crafts for Toddlers
These Mothers Day crafts for toddlers are super cute and there's over 35 gorgeous ideas to inspire you to make something gorgeous for moms.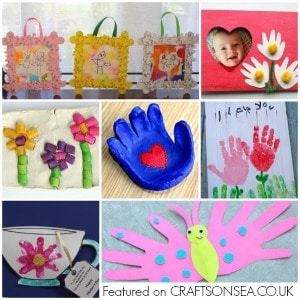 We love these St Patricks Day activities for toddlers – perfect for making sure that all the family can join in with the celebrations!
Finally we love these Easter crafts for toddlers with eggs, chicks and cute Easter bunnies.