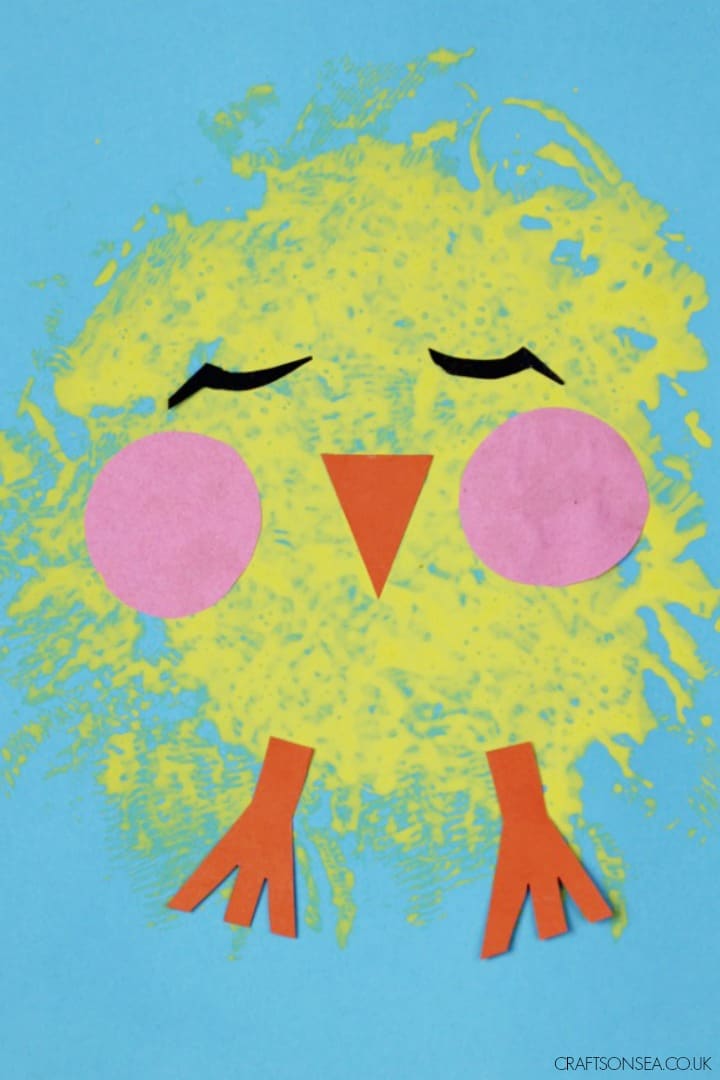 This easy Easter chick craft is perfect for younger kids to make either for Easter, spring or as a farm animal craft. I made these Easter chicks with my daughter who was a preschooler at the time so it's a great chick craft for preschoolers or toddlers as the big painting materials are perfect for small hands.
RELATED: Easter Books for Toddlers
I have included links to affiliate programmes in this post if you click on these and buy I may earn a small commission. Affiliate links are marked with an asterisk.
Easter Chick Painting
This Easter chick craft is super cute and so simple to paint too – you're going to want to pin this one for later if you can't make it right now because seriously we had so much fun together making them and they're so easy to create and sweet!
With the type of sponges we used for this craft we obviously had to grab hold of them with our hands but if your child isn't so keen on getting their hands messy then you could use a piece of sponge and hold onto this with a clothes peg.
This is a really easy way to change things up from using a paintbrush without having to get too messy.
How to Make Easter Chick Cards
This Easter chick activity would make brilliant Easter cards for kids to make too.
Instead of using a plain sheet of card as we did grab some premade cards* with envelopes or fold a piece of card in half and make your chick craft on the front, ready to give to friends and families – I know my kids grandparents would love to receive on of these.
I wish I had more process shots to share with this craft but as we were having so much fun painting I didn't get the chance. Thankfully this is such an easy craft to make that the instructions should make it all perfectly easy to follow.
Easter Chick Craft
Make this cute Easter chick craft with our super big painting sponges
Print
Pin
Rate
Equipment
Shower sponge

Reusable plate

Scissors

Glue
Materials
Paint

yellow

Coloured card

any colour, for the background

Card

for the eyes, black or white

Card

orange

Paper

pink (optional)

Pen

black (optional)
Instructions
Start by putting some yellow paint onto your plate, you'll want a nice flat surface to work with for this and the plate is perfect for giving a nice big surface for your sponge.

Next up dab your shower sponge into the paint, your sponge will hold a lot of paint so you'll want to use card for this craft rather than paper or it will get very soggy very quickly!

Dab your paint onto your card, one dab will make you a little chick while moving it around the paper more will give you a bigger one, just make sure you keep to a circular shape!

Once you have painted your chicks bodies cut out beaks and feet from orange card and eyes from black card. I also cut circles out of pink paper for my chick's cheeks. If you are making this craft with a preschooler or toddler you are likely to want to want to do the cutting for them (especially the feet) but younger kids can cut out the triangle for the beak especially with some help. For our chick crafts I had to help with the cutting as my daughter wanted 'girl eyes' for her chick rather than the circles I originally suggested and I have to admit they do look cuter. I've also suggested white card and a pen in the materials list as you could cut out white circles and draw in dots for eyes instead, this would also be a good way to use up any scrap paper or card. The picture I've shared here is the one that my preschool age daughter made.

Once your paint is dry stick all of the chicks features on with glue.
Notes
Instead of cutting out paper for your chick's eyes you could wait until the paint is dry and draw these on with a black marker pen.
Tried this?
Mention @craftsonsea - we'd love to see and maybe share it!
More Easter Crafts for Kids
This foil painted Easter egg craft is super easy for kids to do and comes with a free printable too.
How about some Easter lambs? This sheep craft is perfect for preschoolers and toddlers to paint.