This easy Easter chick craft is perfect for younger kids to make either for Easter, spring or as a farm animal craft.
I made this easy Easter painting with my daughter who was a preschooler at the time so it's a great chick craft for younger kids or toddlers as the big painting materials are perfect for smaller hands.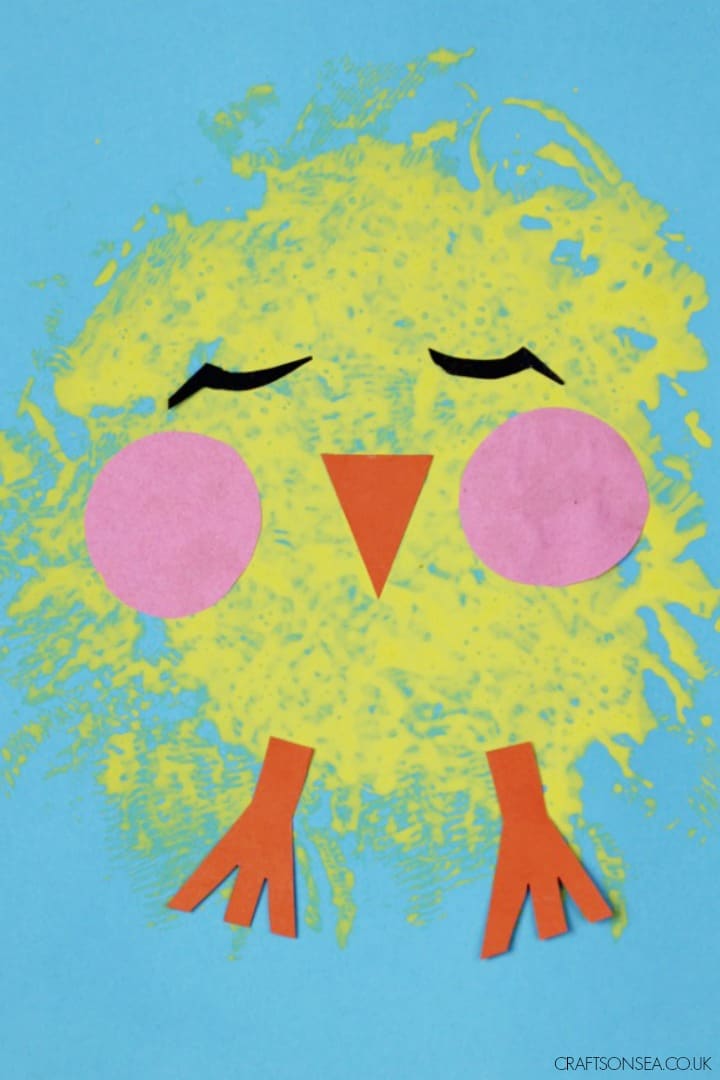 RELATED POST: Easter Books for Toddlers
We have included affiliate links to some of the products and resources and as an associate we may earn from qualifying purchases.
What You'll Find on This Page
Easter Chick Painting
This Easter chick craft is super cute and so simple to paint too – you're going to want to pin this one for later if you can't make it right now because seriously we had so much fun together making them and they're so easy to create and sweet!
With the type of sponges we used for this adorable chick we obviously had to grab hold of them with our hands but if your child isn't so keen on getting their hands messy then you could use a piece of sponge and hold onto this with a clothes peg.
This simple craft is a really easy way to change things up from using a paintbrush without having to get too messy.
I really loved using the shower sponge for this craft as I think it makes a fluffy chick craft with quite an unusual texture but if you can't get hold of one there's other ways that you could make this simple Easter craft. Why not try materials like pom poms, a normal sponge, kitchen foil or even a potato.
Craft Supplies
Colored cardstock
Yellow paint
Plate or tray
Shower sponge
Scissors
Glue stick
Colored paper or card stock in black, pink and orange
Easter Chick Craft
Pour some yellow paint onto your plate or tray, this makes it easier to access and the plate is perfect for giving a nice big surface for your sponge.
Next dab your shower sponge into the paint, your sponge will hold a lot of paint so I recommend cardstock or construction paper for this craft rather than paper or it will get very soggy very quickly!
Dab your paint onto your cardstock, one dab will make you cute little baby chicks while moving it around the paper more will give you a bigger one, just make sure you try to keep to a circular shape!
From orange construction paper or card cut out feet and a small triangle for the chick's beak, from the black paper cut out eyes and if you like you can also cut out pink circles for cheeks as I have.
If you are making this craft with a preschooler or toddler you are likely to want to want to do the cutting for them (especially the feet) but younger kids can cut out the triangle for the beak especially with some help.
For our chick crafts I had to help with the cutting as my daughter wanted 'girl eyes' for her chick rather than the circles I originally suggested and I have to admit they do look cuter.
You could also use white card and a pen to make the chick's eyes instead as you could cut out white circles and draw in dots for eyes instead, this would also be a good way to use up any scrap paper or card. If you'd prefer you could also use googly eyes instead.
Once the paint on your Easter chick is dry you can glue these pieces on to it.
The picture I've shared here is the one that my preschool age daughter made.
How to Make Easter Chick Cards
This easy Easter craft would create brilliant Easter cards for kids to make too.
Instead of using a plain sheet of cardstock as we did grab some premade cards with envelopes or fold a piece of cardboard in half and make your chick craft on the front, ready to give to friends and families – I know my kids grandparents would love to receive one of these cute crafts.
More Easter Crafts for Kids
This foil painted Easter egg craft is super easy for kids to do and comes with a free printable template too.
Spring chick crafts are obviously popular during Easter and this paper plate chick craft uses a paint splat to make them. Paint splats are super easy to make so they're fun activities for younger kids to get involved with too.
In my opinion you can't make Easter crafts without having an Easter bunny! This paper plate rabbit twirler is a great way to practice scissor skills too. You could even add a little carrot for this little guy!
Easter Chick Craft
Make this cute Easter chick craft with our super big painting sponges
Print
Pin
Rate
Equipment
Shower sponge

Reusable plate

Scissors

Glue
Materials
Paint

yellow

Colored cardstock

any colour, for the background

Cardstock or construction paper

for the eyes, black or white

Cardstock or construction paper

orange

Paper

pink (optional)

Marker pen

black (optional)
Instructions
Put some yellow paint onto your plate or tray.

Dab your shower sponge into the paint.

Dab your paint onto your card making a circular shape.

Once you have painted the body cut out the chick's beak and feet from orange card and eyes from black card. I also cut circles out of pink craft paper for my chick's cheeks.

Once your paint is dry stick all of the chicks features on with glue.
Notes
Instead of cutting out paper for your chick's eyes you could wait until the paint is dry and draw these on with a black marker pen or glue on googly eyes.
If you want to add some wings to your spring chicks you could draw some on with a marker or cut some out of yellow paper and glue them on. 
Tried this?
Mention @craftsonsea - we'd love to see and maybe share it!