We've shared quite a lot of animal themed crafts for toddlers and with all things spring firmly on my mind today I'm sharing this easy sheep craft for toddlers.
Of course it's a craft that can be adapted for older kids too and as preschool and older aged children grow more confident with scissors it's one that they can enjoy too but on it's most simplistic level with a little bit of grown up help this is an easy farm animal craft for toddlers that's perfect for this time of year.
We have included affiliate links to some of the products and resources and as an associate we may earn from qualifying purchases.
What You'll Find on This Page
Sheep Craft
At this time of year the fields near my home are filled with sheep and spring lambs so it's the perfect time to create some sheep and lamb crafts.
I love this easy craft because it's one of those where it doesn't really matter if the paint doesn't go exactly where you meant it to, your sheep craft will still look super cute as sheep's wool is normally pretty fluffy after all!
As well as the craft I'm sharing today I'm also sharing some ideas for spring books for toddlers that you might like to read with your child and some more easy spring crafts for toddlers.
We've also got loads more lamb and sheep crafts that you could check out which all use basic craft supplies, so if you fancy trying out a cotton ball sheep craft, bubble wrap sheep or making some with yarn or cupcake liners then be sure to check that out!
Sheep Craft Supplies
Black construction paper or card stock
White paint
White paper (scrap paper or printer paper is fine)
Black marker
Sheep Craft for Toddlers
Start by putting some white paint onto a plate – using a plate means that it's a lot easier for dipping your pom pom into.
Then grab a pom pom and make a big circle for the sheep's body using the pom pom stamped in white paint. You can then fill the circle in with more pom pom prints.
You can use any color pom pom you like for this although I do quite like using the white pom poms just because they remind me of little balls of the sheep's wool.
Pom poms are great for kids who don't like finger painting (although you could totally do this as a finger painting craft too) and if your child is really against getting their fingers messy then you could use a clothes peg to hold the pom pom.
Using the pom poms to paint with is also good for fine motor skills.
Once you've finished painting the sheep's body you'll need to add it's face and legs.
If you're introducing your toddler to scissor skills then then they could help to snip into a piece of black cardstock to make the legs but for younger toddlers you'll want to do the cutting yourself. Of course older children can cut out the sheep's head and legs themselves.
You can then stick these onto your sheep's body using glue.
Finally for the eyes I've used some white scrap paper cut into circles with the black dots drawn on with a marker but you could just as easily use googly eyes – I just go with whatever craft supplies we have left in the house!
Obviously if you are using googly eyes then be careful with with your child to make sure they don't try and put these in their mouth – although as I'm sure you are more than aware that young kids always have to be supervised during activities!
Your sheep is now ready and ready to display – this craft would be good to make for the front of an Easter card too.
Spring Books for Toddlers
We love sharing stories together as it's a great way to calm down after an activity (and have a snuggle!) which of these would your child enjoy?
More Spring Crafts for Toddlers
This simple flower mosaic craft is a great way to practice fine motor skills.
Or this simple sponge printed chick is really good for Easter as well as spring.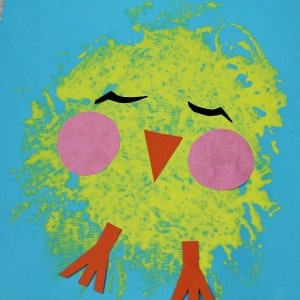 Want more ideas? Check out our round up of spring crafts for toddlers.