Create a keepsake they'll love without breaking the bank with our free printable Mothers Day card to color.
There are three designs to our gorgeous Mothers Day cards that kids can make so you can choose one of our messages or add one of our own.
You can also print as many of each design as you like so you can make these at home or they're also perfect for making in preschools or school classrooms.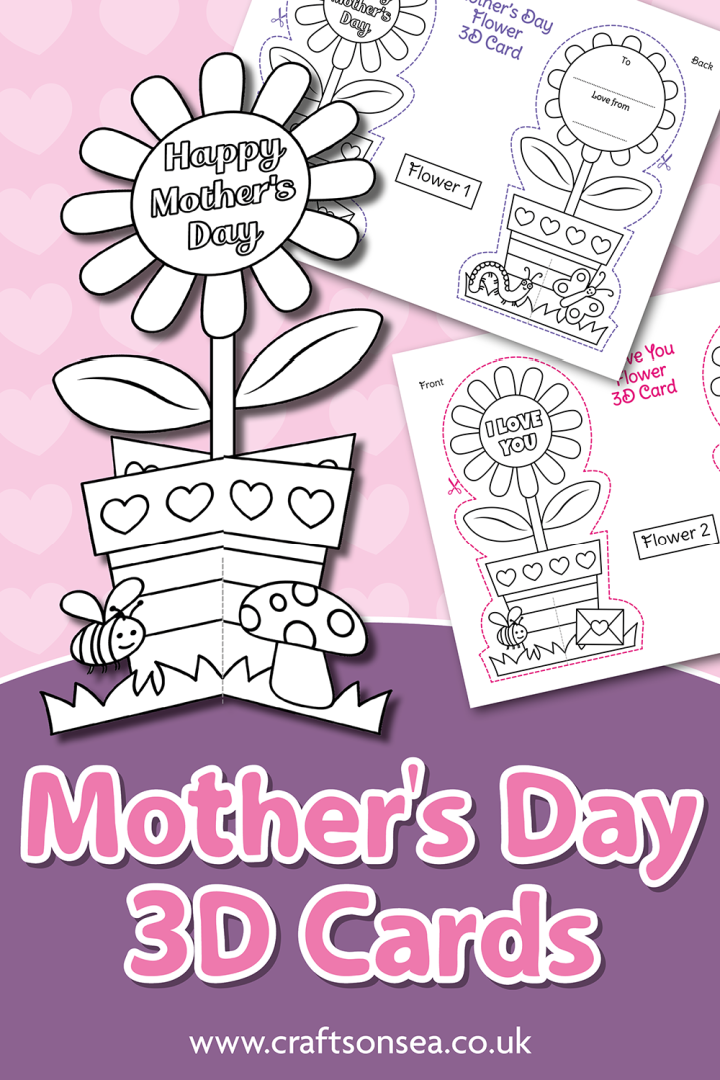 RELATED POSTS: Free Printables for Kids Crafts
What You'll Find on This Page
Printable Mothers Day Card to Color
Mother's Day is always a special day but that shouldn't mean that you have to spend a fortune to celebrate it.
As a mom myself I know that the nicest things I've received over the years are normally handmade and I like to keep the cards that I receive from my own kids, they're really sweet keepsakes!
These cute Mothers Day card templates are perfect for kids to color with their design including hearts, a butterfly, a ladybug, a snail a bee and of course the main flower.
Grab your favorite colored markers and let's get making these!
Card Designs
This download has three different designs so that you can choose your favorite or the one that is best for your family.
When you are ready to print your card just specify which page you want to print. You'll also need to print the first page which has the stand for your card to make it 3D.
If you are making these in a group then you might find that the second option is best to ensure that all the kids can be included.
Flower 1: This card reads 'Happy Mothers Day' on the front and has to and love from written on the back to be filled out.
Flower 2: This card has 'I Love You' on the front and has a lined area on the back for your child to add their own message.
Flower 3: This card has been left blank in the middle of both flowers. You can add your own message, a drawing or even a picture of them. A photo of their face or with their mom would be super cute!
Materials Needed
The PDF of your printable card printed onto white cardstock
Scissors
Glue – either school glue or a glue stick
Art supplies – markers will give the brightest colors but you could also use crayons or coloring pencils
Pen
How To Make Your 3D Mothers Day Card
Start by printing out your choice of design onto white cardstock. You can use printer paper for this but using cardstock means that the finished card is more sturdy and also means that any ink from markers is less likely to show through to the other side of the card.
Color in the card and write your message on it using a pen. Make sure to color both the flower design itself and the stand for the base of the card.
Cut out the four pieces of your card using scissors.
Glue to the two parts of the flower together with the blank sides together and glue the two parts of the base together too.
Once the glue is dry cut along the dotted lines in the stand and in the flower part of the card.
The two separate parts can now be slotted together to make your card 3D.
More Free Mothers Day Printables
Everyone wants to treat their mom for Mother's Day but that doesn't mean that a freebie isn't appreciated, especially if you're helping kids to make Mother's Day cards and crafts in a preschool, kindergarten or classroom!
These free Mother's Day printables are all sure to bring some sunshine into any mama's day and you can print as many copies as you like too.
If you need a simple activity for your child then these free printable Mother's Day coloring pages are perfect. You could even pop the finished sheet in a frame if you want a simple DIY Mother's Day gift to give.
For a super simple Mother's Day craft that's suitable for toddlers and preschoolers we also have a handprint Mothers Day card you could make with this cute flower pot design.
These fingerprint Mother's Day cards have six different designs to choose from. You can make tradition petal or heart shapes for your flowers and then all you need to do is write a message inside.
How To Get Your Printable Mothers Day Card Template
To get your free Mothers Day card craft template just subscribe below in the box. We won't send you spam and you can unsubscribe at any time.
Once you've confirmed your email address your template will be delivered to your inbox as a free gift.
Please make sure to check ALL your email folders for the confirmation email and make sure you press the confirm subscription button.