Whether you want to make spring, summer, autumn, winter or four seasons crafts this free tree template is a great way to spark some creativity and makes it really easy for you to prepare activities! We've used it over the last year for loads of activities that you'll find below and it's a great one for doing some easy to prepare kids activities and crafts and of course being free too is always helpful!
Like this tree template but not ready to print right now or think you'd like to use it again next season? Make sure that you bookmark this page or pin an image for later – just make sure that when you do get to print you use the download link below and not the images shown or your tree template will be the wrong size. It's also a great one to save if you're checking this out on your phone and want to print it later from a computer!
We've shared lots of tree craft ideas such as this mess free autumn tree craft or this apple tree craft so why not check them out for some inspiration? You can also see this tree template being used in the video below and the template is one that we've used in a few different seasonal activities, I love when you can get more than one use out of something! So far we've done:
Need an activity to do with your kids while your stuck indoors? Check out our free print and colour hello cards to send to friends and families, plus some ideas on how to use them if you can't send mail.
Download and print your free tree template here – please note that this is for personal or school / preschool use only. Want more templates for autumn crafts? Check out our free autumn leaves templates too!
Autumn Crafts for Kids
We love autumn crafting and these gorgeous leaf suncatchers that look great in the window.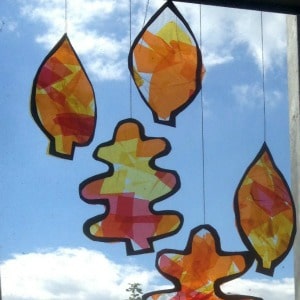 Or these balloon printed apples are another fun and unusual painting technique
Finally for tons more inspiration why not check out this round up of over 45 autumn crafts and activities for preschoolers.