There's so many paper plate chick crafts out there but I do think this one is super cute! I've also tried to make it (hopefully) a little less messy than a normal painting craft because… well because sometimes we like a change from grabbing a paintbrush and sometimes I need a break from ALL the mess. A bit of mess I can cope with but not all of it! Anyway this is a really easy and simple craft that's good for Easter or just as a spring craft. You could use it as a farm animal craft too!
This is such an easy craft to do but if you don't have any paper plates around make sure you bookmark it or pin it for later. (Actually if you don't have any paper plates at home right now you could of course just do this with a piece of paper, we're huge fans of just using whatever we can find at home.)
Paper Plate Chick
Make a simple paper plate chick craft that's perfect for Easter or as a farm animal craft.
Print
Pin
Rate
Equipment
Yellow Paint

Scissors

Glue

Black pen
Materials
1

Paper Plate

Scrap paper

white
Instructions
Fold your paper plate carefully in half to give you a rough idea of where your centre line will be.

Pour some yellow paint into the centre of the plate and fold it closed again.

With the plate closed push down on it with your hands to move the paint out from the centre towards the edges, do this in all directions to get a round shape rather than just one line. You might also want to encourage your child to stop before the edge of the plate so that paint doesn't fall out of the edges.

Open the plate back up and leave to dry.

Meanwhile cut out the body parts for your chick. From orange paper or card cut out a beak shape and two feet.

From white scrap paper cut out two circles for eyes and then draw a black dot in the middle for their pupils.

You can also cut out two circles from pink card to make cheeks. These obviously aren't essential but I think it looks cuter and I'm a big fan of cute crafts!

Glue the beak, eyes and cheeks onto your chick.
Notes
You could also add wings for your chick using either wing shapes cut out of paper or feathers.
Tried this?
Mention @craftsonsea - we'd love to see and maybe share it!
More Chick Crafts for Kids
This easy chick craft is one that I made with my daughter and which she loved!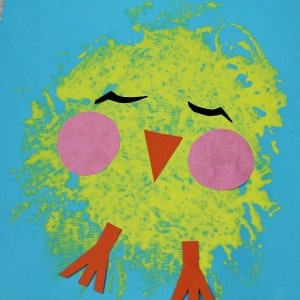 Make this chick craft out of old DVDs or CDs.
This doily chick look super pretty.