These rainbow crafts for kids are all super easy to make and using our free template means that they're super quick to set up too!
Rainbow crafts are brilliant for a number of themes that you might be looking at with your child, weather crafts and activities, St Patricks Day, spring, summer, colour, or just because you really like rainbows. There's no shame in that one either as we love everything rainbow in our house (although my kids do tell me to tone down the clothes if they think I look like a kids tv presenter!)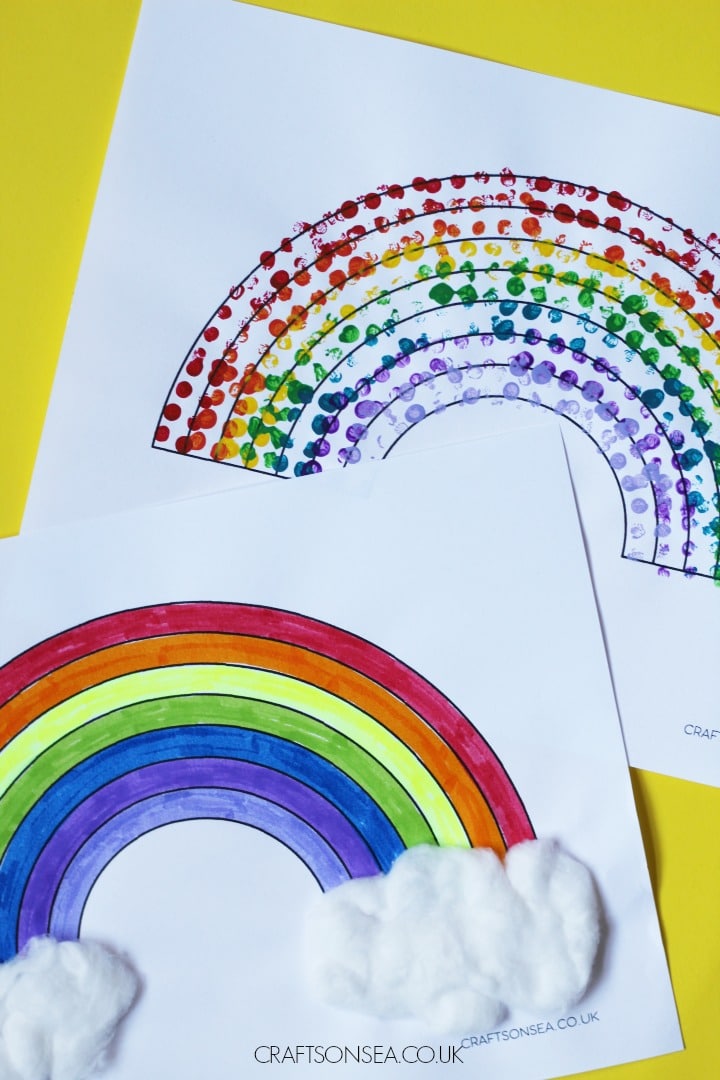 There are loads of ways that you can use our rainbow template but today I'm sharing three easy and quick to set up ideas that you can do at home. I'm sure you'll think of lots more yourself too!
I'll also be sharing some rainbow books for kids and more of our favourite weather themed crafts that we love, plus details of a free rainbow game that you can grab to play with your kids.
I have included links to affiliate programmes in this post if you click on these and buy I may earn a small commission. Affiliate links are marked with an asterisk.
What You'll Find on This Page
Free Rainbow Template
All of the crafts that I'm sharing today have been made using our free rainbow template. Grab as many copies of it as you would like and try out lots of ways to make a rainbow.
Like these crafts? Make sure that you bookmark this page or pin an image for later so that you have them to hand when you're ready to get creative.
Rainbow Books for Kids
Love books? Us too. These rainbow themed books for children all look fantastic and reading them together would be a great excuse for some chill out time together after a busy time crafting.
Free Roll A Rainbow Playdough Mat Game for Kids
If you're loving all things rainbow then our free Roll A Rainbow playdough mat game is something you need to check out as well!
Like our rainbow templates it's totally free for you to get and it's perfect for helping your child with colour and number recognition. Make sure you take a look!
Cotton Wool Rainbow Craft
For this easy rainbow craft I've used felt tip pens to colour in the rainbow but you could of course use paint or one of the ideas I've suggested below.
Once your rainbow is coloured in simply add some glue to each end of the rainbow and then glue on some cotton wool.
As my cotton wool is literally the last few bits I found in the back of a cupboard (and we're great believers in crafting with the lost bits you find around the house) mine has been unravelled first to make it go that bit further but you could of course just glue a few lumps of it down if your stash is larger than mine!
Finger Printed Rainbow Craft
Finger painting is such a classic craft or activity for kids but it's a classic for a reason, kids enjoy it and it looks great too!
We find it easiest if you pour a little bit of each coloured paint onto a reusable plate first so that it's easy to dip your fingers into it.
Don't like getting your hands messy? You could try using a cotton bud instead or the Lego activity that's described below.
Lego Printed Rainbow Craft
Not so keen on getting fingers messy? Printing with different materials can be a great way for kids that aren't so keen on mess and Lego is something that lots of us already have at home!
You can of course just grip hold of the Lego, this is fine for lots of kids but if you're child doesn't like getting their fingers messy then you could make a stack of Lego so that their hands are further away from the paint.
As with the finger painted rainbow above it's easiest if you put some paint for each colour onto a reusable plate first so that you can stamp the Lego into the paint before using it to decorate your rainbow.
More Weather Crafts for Kids
These cute rain crafts for kids are made using our free rain cloud template and would be a great craft to make alongside these rainbow crafts.
These paper plate snowflakes were made by my kids and are great for decorating too!
This handprint sun craft is super cute and even very young kids can help with painting the paper plate.