Our cotton ball sheep craft is perfect for spring and Easter, is so easy to make and using our free printable template means you'll end up with an adorable sheep with minimal preparation.
Making a fuzzy sheep craft is a bit of a classic activity for kids and for little ones who aren't ready to be cutting out tricky face and ear shapes this activity makes it easier for them to join in the fun.
This is great alongside some of our other spring animal or farm crafts or just as a quick craft that you can do together.

RELATED POSTS: Sheep Crafts for Kids
What You'll Find on This Page
Cotton Ball Sheep Template
I've made this craft using our free sheep template. There are two different designs, one that shows the sheep's eyes, nose and mouth and one that leaves these blank so that you can add the sheep's features yourself.
You can print as many copies of the template as you like so it's good if you're doing this activity with a group.
Materials Needed
Sheep template
Glue
Coloring pencils
What Should I Print My Sheep Template On?
For this crafts I would recommend that you print your template onto cardstock rather than paper if possible. This is because the glue can make the paper quite saturated and also because the cotton balls can weigh a bit – you don't want your craft tearing!
I've printed mine onto white cardstock but if you prefer you could print it onto colored card, just obviously be mindful that this will also be the color of your sheep's face.
It's fine if you print it onto a pale green and plan to color your sheep's face black or brown, in fact I think that would look great, but it's less likely to work if you print it onto a strong or bright color and want your sheep to have a white face because generally white crayons and coloring pencils don't give the coverage I'd normally like them to. If you know of a brand that works well let me know!
Cotton Ball Sheep
Step One
Print out your sheep template. I've used white cardstock for mine.
Step Two
Color in your sheep. I've left one of my sheep blank and colored in the sheep's face and legs on the other sheep. You could also color in the sheep's nose if you wanted too.
Because I'm using black I've used a coloring pencil because I wanted to make sure that you could still see the sheep's features but if you choose to use another color then you could use a marker pen instead.
Step Three
Cover the sheep's body and the top of the sheep's head in glue. I've used school glue / PVA for this because I tend to find that it sticks things with a bit of texture much better than a glue stick. You could use a glue spreader to make sure this covers the sheep's wool if you like.
Step Four
Glue your cotton balls onto your sheep. You can do these whole or unravel your cotton balls and spread them around the body of the sheep.
More Spring Animal Crafts for Kids
We have lots of spring crafts and lots of these are perfect as an Easter craft too. This easy chick craft is one that I made with my daughter when she was a preschooler as the big painting material was perfect for her small hands, older kids could also make this as they will be able to do the cutting themselves.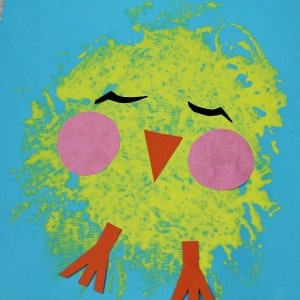 This paper plate rabbit is a good one for kids who are learning to use scissors as they can cut out the spiral shape. You can use it as a decoration but it's also fun to play with as it can 'bounce' around the room.
Finally this paper plate bee craft uses torn black construction paper and used newspaper to make this cute craft. You could swap the newspaper for white paper though if that's what you have at home.