Is this a sheep craft or a lamb craft? I'm not sure but my daughter and I certainly had fun making it! There are loads of cute newborn lambs in the fields near us at the moment and this fun activity is a great spring craft for kids to make as well as being perfect for Easter too.
Sponge painted sheep craft materials
Sponge (we used the shower sponge kind)
Coloured card
Black card
Googly eyes
Plate
Scissors
Glue
White paint
Let's make it
If you saw our sponge printed chick craft the other day then you might have worked out that we made this at the same time! It's a nice way to get a few crafts done at the same time without having to get totally different materials out and as they're both on a spring and Easter theme it would be a good way to get a few Easter cards made for people too!
For the background we used card rather than paper, this is because the sponge tends to suck up and then deposit quite a bit of paint and card holds it a lot better without getting soggy. Squeeze your white paint onto a plate and then using your sponge make a circular shape on your card for the sheeps body. My daughter (four) enjoyed squeezing the paint out of the tube herself and making big splodges for the sheeps body.
From black card cut out four sticks for the sheeps legs and a face shape for the sheep too and stick these on with glue. My daughter, being four and a big fan of doing things her own way, decided that her sheep needed eyebrows (which she drew) and then instructed me to make butterfly eyes and cloud cheeks. This is her version.
If you are going the, ahem, slightly more traditional way for drawing a sheep then you can now add some googly eyes for your sheep too.
Like this craft? Make sure that you pin the image at the bottom of this page so you don't forget to make it! Want more spring or Easter animal crafts for your kids? This doily rabbit is super popular and super cute too.
Or how about trying out the sponge chick craft while your here?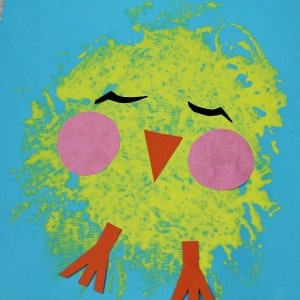 We've got loads more fun sheep crafts too that you might like!