This cute lion themed free printable Valentines card to colour is ready for you to grab. Perfect as an easy Valentines Day activity for kids and perfect as a way to share a bit of joy with someone else too!
RELATED: Free Printable Valentines Bingo Cards
Printable Valentines Cards For Kids
Although Valentines Day is generally something for grown ups I think it's a nice thing for kids to celebrate too after all there's nothing wrong with showing a bit of love for each other!
This Valentines card is about telling someone you think they are great, so really it's just another way of telling someone they are awesome.
Plus the lion is super cute!
Printable Valentines cards for kids are great as it's a good way to do something nice without spending too much money.
And of course as this is a Valentines card to colour in it's a great activity to keep your child busy too. You could try making one for each other!
Who can I give a Valentines card to?
As this is a kids Valentines card they might want to give it to a friend but don't forget about other people who would love to receive a card too.
How about sending a coloured in card to relatives? I know a lot of grandparents would love to receive a cute card like this!
What size is this card?
There are two versions of this card to print UK A4 size and US letter size.
In both cases you just need to fold the card in half once you've printed it and you're ready to start decorating.
Free printable lion Valentines card
To get your PDF card just click on the size below that you would like.
Lion Valentines Card US Letter size
More Valentines Printables for Kids
Grab this cute bunny Valentines printable free to print and colour as well.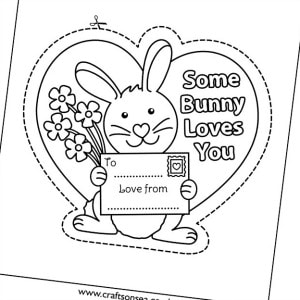 Or why not grab our free heart template and try out some of our heart crafts for kids.