How cute is this doily rabbit craft?! It's super simple to make and as doilies are really cheap it's a really inexpensive craft for keeping the kids busy too – perfect for spring or of course this would make a perfect Easter craft for kids.
*I have included links to affiliate programmes in this post if you click on these and buy I may earn a small commission*
Like this craft? Make sure that you bookmark this page or pin an image so you don't forget about it! Plus keep reading for some more fun rabbit books for kids and our favourite spring and Easter craft ideas.
Doily Rabbit Craft Materials
Black pen
Glue
Scissors
Lets make it!
Start by cutting out some ears from white card and then cut the same shape out of pink paper or card, make the pink ones slightly smaller though so these can fit in the middle of the white ears. You can use paper for this but card or card stock is a lot better as it will hold up and if you'd like to display your rabbit afterwards you might not want the ears flopping over it's face! Stick the pink insides in the middle of the white ears and then stick these onto the top of your doily with some glue.
Next up cut out a black nose and whiskers from your black card and some pink cheeks from your pink card. Of course you don't *need* pink cheeks but I think they're way cuter and cuteness is very important in my opinion!
All that's left to do now is add your eyes and mouth. For the mouth I've used a black pen to draw it in and for the eyes I've used some more of the black card, if you look at the long image above you'll see I tried out two different styles of eyes, I'm still not sure which one is my favourite? You could also draw on your nose and eyes for your rabbit if you would prefer.
Rabbit Books For Kids
My kids love a themed story to go along with what they've been doing and I think most kids are the same! These rabbit themed books all sound fantastic and would be great for reading this Spring or maybe as a little Easter present. Which would be your kids favourite?
Guess How Much I Love You by Sam McBratney – a classic rabbit book for children
That's Not My Bunny by Fiona Watt – we love the That's Not My… series and they're ones that my kids still like a look through year after year
Big Bad Bun by Jeanne Willis – we have this book and it's been read so many times it's starting to fall apart a bit!
More Spring Crafts for Kids
Want more ideas? Why not try this fun sponge printed chick craft that my daughter loved making too!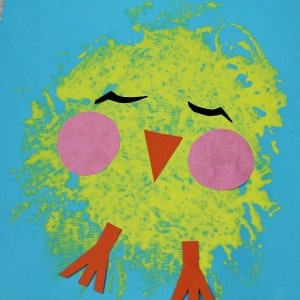 Or if your kids enjoy painting this foil painted egg craft is great fun and there's a free printable included too.
Finally this round up of sheep and lamb crafts is super cute too!