This ladybug craft was so much fun to make with my toddler and is perfect for an easy spring craft to make together.
I love using q-tips for crafts(or cotton buds as they're called here in the UK). They're cheap, you probably have some in your bathroom cabinet and they're great for practising fine motor skills – always a winner with crafts for toddlers.
My youngest has been wanting to make a ladybird for a couple of weeks now but I couldn't think of anything that she could have fun and enjoy without being too adult led.
I think it's ok to prep a couple of bits in advance to help, but she's only two so I don't really like telling her where to stick things, or telling her that she shouldn't use the pink paint if that's what she wants.
Thankfully this ladybug craft for toddlers suited her perfectly, I'll share a couple of ideas in the post about how to make this as easy and enjoyable as possible and also a couple of ways you could change up this ladybird craft for older kids.
We have included affiliate links to some of the products and resources and as an associate we may earn from qualifying purchases.
What You'll Find on This Page
Ladybug Craft Materials
Red paper or card
Q-tips (cotton buds)
Black felt tips


How to make a ladybug craft
Cut an oval shape from some red card or paper, I realised I was totally out of this so I upcycled some old Christmas card envelopes which worked perfectly.
Using marker pens draw on the ladybirds head and a line down their body to show the wings. Because you are dealing with black paint which is always a bit hair-raising with young kids (I have a new bathroom, I get the fear believe me) there are two things that I pretty much always do, first up is to only put a small amount of paint out at a time to lessen the chances of it going everywhere and secondly have some baby wipes at the ready to clean up any mess. I always take my kids to the bathroom to wash their hands as soon as we're done but it's best to get the worst off first!
At two and a half my daughter really enjoyed 'dipping' the q-tips into the paint and then dipping it onto the ladybirds. I like working alongside my kids rather than doing stuff for them, so these are out two finished ladybirds!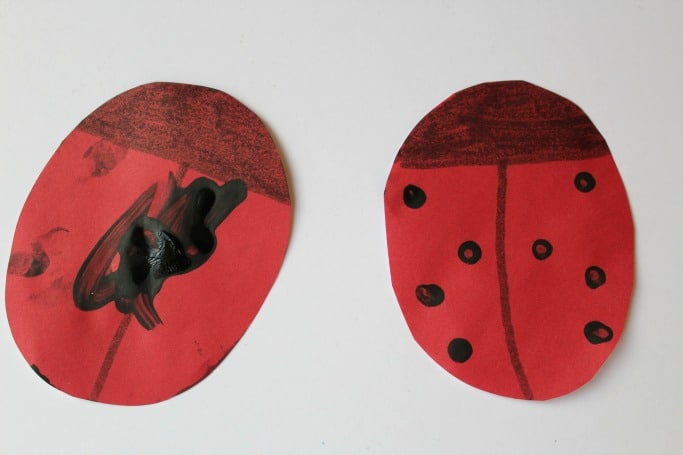 Tips and ideas for older kids
Older children are likely to get the idea of symmetry more, can they make both sides the same?
Counting how dots are on each side. Is it the same amount? How many is there all together.
Add googly eyes to the ladybirds face
Paint the spots using fingerprints or black stickers
What other insects can you think of?
You may also like:
Animal Crafts for Kids