With the changing colours all around us this is the perfect time to share some autumn art ideas for kids.
There are loads of autumn painting ideas in this round up with ideas for all ages easy ideas suitable for toddlers and preschoolers to slightly more complex ideas that are great for kids in primary and junior school.
Autumn Art Ideas
To my point of view, autumn is possibly the perfect time for doing some art and creative activities with your child. The change in colours give the perfect opportunity to be inspired by nature and everything looks really pretty!
Autumn tree crafts and leaf crafts are obviously really popular as the changes are right there in front of us, I think we all notice starting to stomp through the leaves on the nursery or school run.
Other really popular choices can be apples, pumpkins and what I'd count as more 'autumnal animals' like hedgehogs, squirrels and owls. Of course I know they're round all year but the change in seasons makes them that bit more prominent!
I'll also be sharing some autumn themed templates for kids crafts which are perfect for painting so if you want something super easy and quick to set up make sure you take a look at those too.
This post was originally called 15 ideas but over the years I've found or created more autumn ideas art ideas so you'll find even more in this post now. There are ideas suitable for all ages some of these art ideas are ones that I did with my own kids when they were toddlers or were in preschool while others are ones that would be suitable now that they are in KS2 in primary school.
If you like these ideas make sure that you bookmark this page or pin an image so that you can return to it again for more ideas plus keep reading for some of our favourite autumn crafts and activities for kids.
Autumn Painting Templates for Kids
All of these templates are free and in all cases I've included ideas for how you can use them too. You can print as many copies as you like making them handy if you're doing an activity with a class at school or preschool.
Autumn Art for Kids
Try using pinecones as way to create some autumn art, we've got a free leaf printable you can use too.
We love these autumn tree painting ideas and there's a free tree template you can use as well. You can see this activity in action in the video that is shown on this page.
Make a handprint hedgehog craft with our sweet hedgehog template.
Pumpkin seeds are something that we often end up with a lot of over the autumn and this autumn tree art using dyed pumpkin seeds from Fun-A-Day looks fantastic, there's a tutorial on how to dye them too!
Have you tried making scratch art? This autumn themed one from Kids Craft Room looks gorgeous.
Try making our resist art squirrel craft using our free template.
Create some pretty leaf silhouette art following this tutorial from The Best Ideas for Kids.
This apple painting craft is our twist on a autumnal art classic.
Isn't this clay leaf art from the Imagination Tree absolutely gorgeous! I love the idea for turning them into bowls as well.
Try out a super simple art technique with this paint splat fall tree craft.
I'm a little bit in love with these coffee filter suncatchers from Tinkerlab and I know that my kids would love to make them too.
Have you tried using black glue in art? These black glue autumn leaves might be a good way to start!
Use cotton wool to try out a different way of painting with this apple craft.
This window painting idea from Kids Craft Room is really pretty and a great excuse to go out looking for leaves with your children.
Paint an autumnal field scene as the background to this scarecrow craft.
Lots of autumn art ideas for kids are centred around autumn trees due to their beautiful colours and I love the way that Fun-A-Day uses negative space in this kids art activity to make a tree painting with a difference!
A Little Pinch of Perfect shares a great autumn leaves idea that makes a fantastic STEAM project too, plus the results are so pretty!
Happy Hooligans idea using golf balls would be great for toddlers or preschoolers.
Grab the paper tubes and make this toilet roll painted owl craft using our free owl template.
Projects With Kids shares some gorgeous fall art using chalk.
Have you tried making art with crayon shavings? Happy Hooligans shows you how with this fall art project.
Autumn Crafts and Activities for Kids
These autumn leaf suncatchers look great hung up in windows and can be a good way to teach about colour mixing too.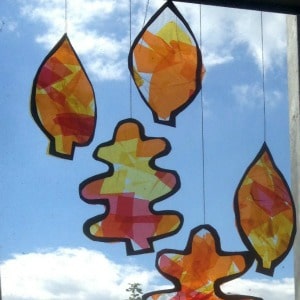 This pom pom apple tree is a fun craft to do with younger kids (my daughter made this one) and is good for fine motor skills too.
Creating bird feeders together is a great activity for this time of year as it's a great excuse to get outside but you can always watch the birds from the warmth of your home if it starts to get too cold! Our DIY bird feeders kids can make has got loads of inspiration for tutorials to try out.