No matter what the season is our feathered friends could normally do with a bit of a hand so easy bird feeders that kids can make are a great idea as it both keeps the kids busy for a while and attracts more birds to your garden which is a win-win situation as far as I'm concerned!
There are so many different ways to create a DIY bird feeder with kids and they really are child friendly. With step by step instructions for crafts including pine cones, cookie cutters and toilet paper rolls you might find that you have most of the materials you already need to get creative. Just make sure you have some birdseed too!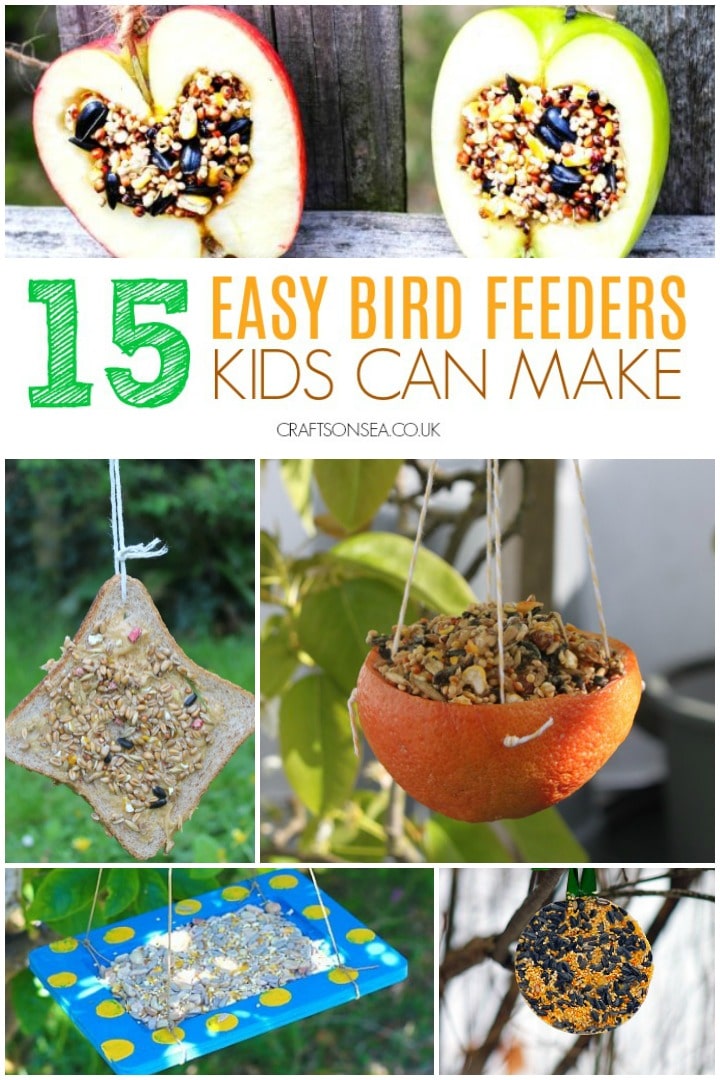 We have included affiliate links to some of the products and resources and as an associate we may earn from qualifying purchases.
How do you make a bird feeder kid friendly?
Most activities can be kid friendly as long as you think about your child's abilities!
Look for easy bird feeder crafts than include things like sprinkling bird seed, mixing up the ingredients or threading cheerios. Older kids will be able to help with bird feeder crafts that include cutting while you will need to assist younger children.
How do you make bird feeders without peanut butter?
Obviously if someone in your family or group has a peanut allergy then you won't be wanting to use peanut butter as one of the ingredients for your bird feeder.
A discussion on Peanut Allergy suggest products such as Sun Butter and suet is another option but several of the bird feeders I'm sharing today don't use peanut butter (or similar alternative) at all so might be a better choice, look for the juice carton bird feeder, milk carton bird feeder and ones made with Cheerios (and blueberries yum!)
What food is safe for birds?
Obviously you want to use food that you know is safe for your birds to eat, this article from the RSPB is really helpful and also has details on what household scraps you can feed birds.
If you want to make sure you're using the right stuff you can also buy packets of bird seed and there's loads of different varieties available including packs aimed at feeding birds from different regions, feed for songbirds and even bird food that's specifically aimed for feeders for your porch or patio.
Bird feeders kids can make
Making a bird feeder is a great way for kids to find out what birds live in their neighbourhood, will you just get sparrows or what about more unusual birds?
It's a great idea to keep a simple book of birds near you when you're watching which birds feed from it afterwards so you can look up together what kind of birds live near you.
If you'd like to do more educational activities after making your bird feeders then you could try charting how many birds or different kind of birds you see using it over a fixed period.
Want to make sure you don't forget any of these awesome bird feeders? Be sure to bookmark this page or pin an image for later so that you've got all this inspiration to hand when you need it the most.
Want more ideas? Check out the links at the end of this post for more ideas for nature inspired crafts and activities for kids or why not check out our free bird template?
Make a simple egg carton bird feeder like this one I made with my daughter, perfect for hanging in your backyard like we did.
These citrus cup bird feeders from Mama Papa Bubba that have been made using an orange look amazing and you'd get the added bonus of the lovely scent while you made them.
Kids will love to decorate these wooden frame bird feeders from Buggy and Buddy
Homemade bird feeders can be a great way to use up food that you already have and these apple bird feeders from Natural Beach Living are a great way to do that.
These winter birdfeeders are really pretty, make sure you hang them somewhere close enough to your house that you can keep inside and warm while you watch the birds enjoy them!
This cup bird feeder made from an old coffee or teacup and saucer looks surprisingly easy to make and would make a great DIY gift too.
This simple bird feeder from Messy Little Monster is really pretty and would make a great gift too.
Fans of crafting with recyclables will love the simple diy for this milk carton bird feeder.
Pinecone bird feeders look fantastic and have the added bonus that looking for the pinecones themselves can be an activity for your kids.
Red Ted Art's juice carton bird feeders look amazing, I love the owl design!
This paper bowl bird feeder from Non-Toy Gifts looks insanely pretty!
Add some fruit to your bird feeders with this tutorial from Happy Hooligans that uses blueberries too.
Toilet rolls are always going to be one of those craft materials that everyone can get hold of and this toilet paper roll bird feeder is a great way to use them up.
See nature up close with this DIY window bird feeder.
Cheerios are great for helping kids with their fine motor skills and this tutorial from Kids Craft Room shows how to make your bird feeder look super pretty too.
Bird Books for Kids:
Enjoying seeing the nature in your own neighbourhood? Why not encourage your child's interest with these great books about birds.
More Nature Inspired Activities for Kids:
This frozen flower activity is perfect for outdoor play and looks really pretty too.
Or how about trying out these story stones inspired by the sea.
Or finally if your kids love outdoor activities how about these fun camping crafts for kids!