Isn't this free squirrel template just the cutest! It's perfect for the fall season and in this post you'll find lots of creative ideas about how you can use it with your child for some easy activities and crafts together.
There are two designs for you to download and use, one more simple squirrel outline and a slightly more detailed printable with the squirrel holding an acorn. You can choose which design you like the most or use both of them.
What You'll Find on This Page
Free Squirrel Template
Squirrels are really popular for art and craft projects during fall with both woodland animal topics and fall itself being favourites both at school and pre-k as well as at home.
This cute squirrel makes it easy for you to get started with any project, with coloring being super quick to set up or slightly more technical ideas like our paint resist craft still really appealing due to the squirrels recognisable shape.
The PDF file contains both squirrel designs so you can choose the one that your child likes best or try them both out.
Squirrel Crafts and Activities
Want to try out this template but not sure what to do with it? Why not try one of these suggestions, we often find that once we get started a quick look at our craft supplies inspires us with even more ideas!  If you are using a lot of paint or glue in your craft then I would recommend printing your template onto cardstock rather than paper so it doesn't get too over saturated.
Coloring: These sweet printables make perfect squirrel coloring pages that are great for an easy quiet time activity. Just print your favorite design onto white paper and grab your coloring pencils, markers or crayons.
Paint Resist: I've used this template to make our paint resist squirrel craft. If you haven't tried this technique before it's a good one to try and we've got a step by step tutorial to help you.
Pom pom painting: With squirrels being furry creatures pom pom painting is a good idea as it gives a bit of a texture to it. All you need to do is pour some paint into a plate or tray and then dab a pom pom into it before dabbing the paint onto the body of your squirrel. This can be a great way to learn about color mixing too! This is a really fun and easy squirrel craft to try out but if your child doesn't like the feeling of paint on their hands (because their fingers will get paint on them!) then why not try holding the pom pom with a clothes peg for the same effect with less mess.
Scrunched tissue paper: This tissue paper squirrel craft is really simple to adapt and is perfect for younger  too as tissue paper is such a fun sensory material to use. To prepare your tissue paper you can use scissors to cut it into pieces (great for scissor skills!) or just try tearing it – tearing paper is great for supporting fine motor skills too. Scrunch it into balls and then glue it onto your squirrel craft template.
More Free Templates for Kids Crafts
Our free templates are always really popular and we've got lots of them which are perfect for fall activities. As with this post, we always share ideas on how you can use them with your child to help encourage their creativity.
This large oak leaf template would work well alongside the squirrel, especially if you've opted for the picture with an acorn.
Or why not check out our scarecrow template, we've left the face blank meaning that your child can add their own design to this if they like.
Finally our apple template is perfect for some simple fall activities and crafts.  We loved using it for a simple apple stamping craft that's perfect for preschoolers and toddlers.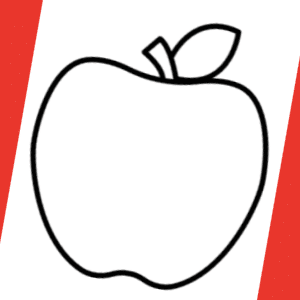 How To Get Your Free Printable Squirrel Template
To get your free squirrel craft template just subscribe below in the box. We won't send you spam and you can unsubscribe at any time.
Once you've confirmed your email address your template will be delivered to your inbox as a free gift.