I've been meaning to share a hedgehog craft for a while and this one that my daughter helped me make at the weekend was too cute not to post, we had so much fun making it!
We used our free hedgehog template to make it and I think the results look great. It's a really easy activity for you to do with your child and it's perfect for the autumn months too.
This craft is super simple to make but in this post you'll also find a few tips on how you can make it as successful as possible.
RELATED ACTIVITIES: Autumn Art Ideas for Kids
We have included affiliate links to some of the products and resources and as an associate we may earn from qualifying purchases.
What You'll Find on This Page
Hedgehog Craft
I made this sweet hedgehog craft with my daughter this weekend, with the change in seasons it was a really nice one to make and we enjoyed looking for autumnal paint colours for this craft together while we worked out how to create it.
My daughter is currently seven but I think this craft would also be suitable for toddlers and preschoolers as the template means you don't have to try and draw a hedgehog yourself (they're a bit tricky, right!) and handprint crafts are ones that young kids are often able to join in with.
Of course handprint art can be a bit messy so I'd really recommend to keep a wet cloth or something to hand so that you can clean up little hands.
Hedgehog Craft Materials
Template (see below)
Brown colouring pencil
Kids paints in autumnal colours
Reusable plate
Something to wipe your child's hands
Hedgehog Template
While you can of course draw out a hedgehog yourself for this craft using our hedgehog template makes it really quick to prepare and it's helpful if you are planning on doing this activity with a group too. No one wants to have to draw 30 hedgehogs!
Make sure to grab it and then you can print as many copies as you like.
Handprint Hedgehog
Start by printing out your template and colouring in your hedgehogs body. You could colour the whole body if you liked but we've opted for just the lower part. We also chose colouring pencils to do this rather than pens because I wanted to be able to draw a face on.
Add eyes and a mouth for your hedgehog. As you are drawing over colouring pencil a sharpie would be good for this but as ours had disappeared I opted for a biro which was fine.
When we're doing painting one of my best tips is to have a reusable plate that you can use again and again for activities. They're so helpful for allowing your child to use painting materials other than a paintbrush as you can use big things to paint with instead, in this case a hand!
While I only really use kids paints, I'd still rather have a specific plate for this rather than it going back amongst the normal crockery and a plate that is unlikely to break is obviously better for kids. Our one is an old plastic plate that's been retired from camping trips.
We've chosen a selection of autumn coloured paints rather than just plain brown because in all honestly we hardly had any brown paint but once we saw our gold paint we thought that would make a great addition. If you wanted you could also use this as an opportunity to talk about colour mixing, there's an article here on how to mix brown paint that I thought was helpful.
Pour the coloured paints into the plate so that your child can dip their hand into it. An alternative to this would be to buy a ink stamp for handprint crafts, we've used similar before when my daughter attended preschool and they were really good for hand printing.
One thing that I really found helpful was to do a practice hand print. Because we wanted the fingers to look like the hedgehogs spikes we wanted them to face towards the back. As we hadn't done much hand-printing recently so that my daughter felt confident we tried doing a handprint on a blank piece of paper first.
Once we'd done our practice she then did handprints all over the hedgehogs back. We did two versions so we could see what it looked like with more or less handprint spikes but to be honest we liked the way that both of them looked.
More Autumn Crafts For Kids
These autumn leaf suncatchers were one of my kids favourite crafts that they made and they've been really popular with other families too with over 150 thousand saves on Pinterest.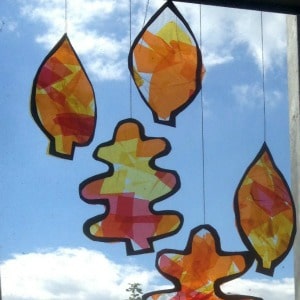 This squirrel craft is one of our more recent and uses resist art along with our free squirrel template.
Handprint Hedgehog Craft for Kids
Use paint and our template for this simple art idea.
Print
Pin
Rate
Equipment
Reusable plate

Brown colouring pencil

Kids paints

Black pen
Instructions
Print out the free hedgehog template.

Colour in your hedgehog's body using a brown colouring pencil.

Draw in your hedgehog's eyes and mouth using a black pen.

Pour the paint onto your plate and dip your hand into the paint so all your fingers are also covered.

Carefully place your hand onto the body of the hedgehog shape to make the hedgehogs spikes with your handprint.
Notes
While we've used our hedgehog template you could of course just draw the hedgehog outline yourself - hopefully the template makes this activity easier though!
Tried this?
Mention @craftsonsea - we'd love to see and maybe share it!