Making owls out of toilet rolls has pretty much become a classic craft over the years, we've made two different versions as well. Have you tried printing with toilet rolls though? Our latest version of a toilet roll owl craft uses our free printable owl template and toilet rolls for a simple art activity that even young kids can join in with.
Plus using cardboard tubes means that this is a really low cost activity, always helpful when you have children to entertain!
RELATED ACTIVITY: Snowy Owl Craft
Owl crafts are perfect for autumn and winter as well as great if you are looking at woodland animals with your child. I also love the fact that they can be adapted so easily – with a change of browns to whites a more traditional owl craft can quickly become a snowy owl craft.
This activity is super easy to do which means that it could be a good one to create with toddlers and preschoolers. My seven year old also gave it a go though so it can totally be made by children older than that as well.
What You'll Find on This Page
Free Owl Template
Our owl template is free and you can grab as many copies as you like, always helpful if you are doing an activity with a group. There are two separate designs, both the one that I've used for this craft and one with a space for your child to add the owl's eyes and beak. Go with whichever one you prefer.
Owl Craft Materials:
Owl template
Kids coloured paints, I've used red, yellow and green
Toilet roll
Reusable plate
*Optional – scissors, tape, brown colouring pencil
Owl Craft
Start by printing out your owl template. I've chosen to colour ours in brown which I think helps make the finished owl a bit more filled out and also has the added benefit of keeping your child busy for that little bit longer! As usual, go with whatever works best for you.
Next is preparing your paints, pour these out onto your plate so that they are easier to access. I've gone for red, yellow and green because I wanted an autumny feel to this craft but you could just go for shades of brown if you prefer. One of the nice things about choosing colours for this craft though is that you can mix them together a bit as well to make a brown shade, a simple reminder about colour mixing.
For the toilet roll itself there are two ways to use it and I've used both in this craft. For larger feathers just flatten your toilet roll so that it has a point at each end. To make smaller feather shapes cut the cardboard tube in half length ways and then fold it in half before sellotaping it into a feather shape as well.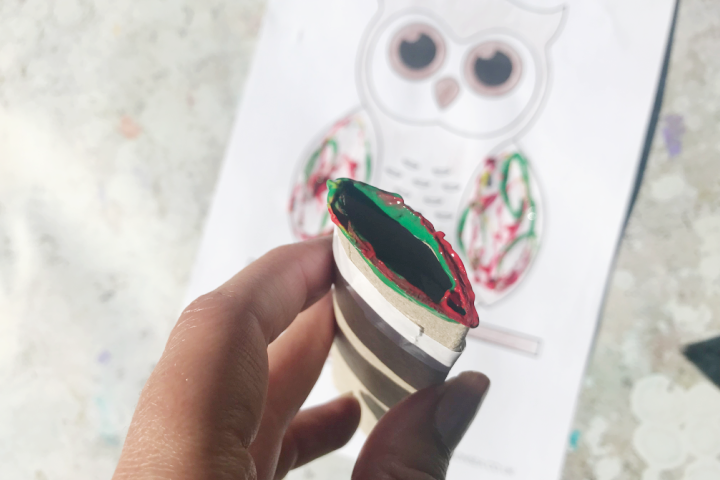 Finally dip your toilet rolls into the paint and then dab them onto your owl to make painted feather shapes.
Another way that you could create this craft is to leave your owl blank, use the toilet roll to paint on the outlines of your feathers and then colour in these shapes.
More Autumn Crafts for Kids
All of the crafts below can be made using our free templates. First up is this cute handprint hedgehog craft that my daughter helped me create.
Have you tried resist art painting? It's a really easy technique and is that one that we've used for this squirrel craft.
Another craft that tries out a different technique is this bleeding tissue paper tree craft. I love the pretty colours that it creates!