I'm so pleased to be able to share these fun autumn tree painting ideas for kids with you today, especially as I've also got a free tree template to share with you to make it a bit easier for you and your kids to get creative!
We love autumn crafts and these ideas are really easy for you to try at home with your children – I'm sure you'll think of loads more ways to paint an autumn tree too and it's a great excuse to get the paints out, mixing up those gorgeous autumnal colours and most of all having fun together!
We have included affiliate links to some of the products and resources and as an associate we may earn from qualifying purchases.
What You'll Find on This Page
Autumn Tree Painting Ideas for Kids
Autumn is a great time to encourage creativity and the changing colours of the leaves make it perfect for inspiring some painting, especially as you can look at the way the colours mix together.
These autumn tree crafts are designed to be really easy and to inspire you to get creative with the things you have at home.
All the items that's I've used to paint the trees are things that you either are likely to already have or that you can normally buy quite easily.
I also find that once we start looking for things to paint with we often find more items we could use so hopefully this will help inspire you to come up with your own ideas too.
For all of these crafts I've put our paint onto a plate, this means that the paints are easy to access no matter what you are painting with and also allows the paints to mix slightly which I think adds to the effect of leaf colours.
You'll also find some more of our most popular autumn crafts for kids at the end of this post so do check them out for more easy ways to keep your kids busy.
For this post I've shared a video of this craft in action as I know that both my kids and I sometimes like to watch how something has been made, I hope that you find it helpful.
Free Autumn Tree Template
Our free tree template can be used for all four seasons and you can print as many copies as you'd like, meaning that you can try out as many of these ideas as you like. We've also used this template for our paint splat fall tree craft and this bleeding tissue tree craft both of which are great for autumn art.


Pom Pom Painted Autumn Tree Craft
I love the effect of using pom poms to paint autumn leaves so much, it's so simple to do but the result really looks like a full autumn tree to me.
This is a great craft if your child likes doing painting but isn't so keen on getting messy. You can grab hold of the pom poms with your fingers or if you don't want to get messy then use a clothes peg to hold onto it.
Tip: If you are using a peg then it's easier to use large pom poms rather than small ones. Whichever method you use it might also be fun to mix up using large pom poms and small pom poms.
To create this art idea using your pom poms just dip them into your paint and get printing.
Autumn Tree Finger Painting
If you don't mind a bit of mess then finger painting is a really sensory way to get creative and to mix the colours up a bit, make sure you keep a cloth nearby to clean up any messy hands afterwards!
You could also do this as a collaborative art project with more than one child and get them each to add their fingerprints.
For younger kids it makes a lovely keepsake too, I love seeing kids finger painting from my kids and seeing how little their fingers look.
If you wanted to you could also try dipping your child's finger into green paint to make some grass at the bottom of the tree.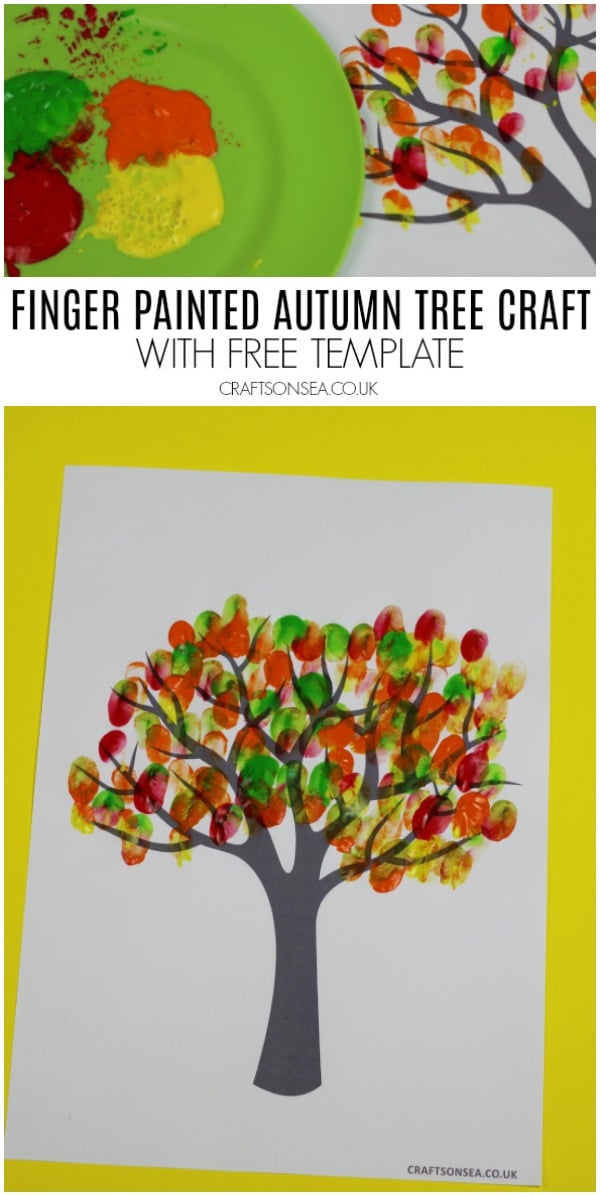 Sponge Printing Autumn Tree Craft
I'm never quite sure what these things are called – bath sponges? Shower puffs? Either way they're a great material to print with and if you don't have one at home already you can buy them online here.
Sponges are also really easy for young kids to hold onto and they're pretty easy to clean afterwards so you can pop them away in a draw afterwards to paint with again another day.
I love how the different amounts of paint on the sponge can give a different effect – big splodges or tiny little lines!
Lego Painted Autumn Tree
I've shared a Lego printed craft before but I couldn't resist including the idea again with this and using our tree template. Using the template makes it look so much better than my attempts at drawing a tree!
You can use Lego for this but Duplo will give bigger circles and can be better for little hands to hold too.
Autumn Tree Crafts for Kids
Let your kids create some fun autumn tree art using different printing techniques.
Print
Pin
Rate
Equipment
Children's paint in red, yellow, green and orange

Old plate

Shower sponge

Peg

Duplo

Pom poms

Bath sponge
Instructions
Print the tree trunk printable

Pour the paints onto a reusable plate

Use your child's favourite materials to create autumn coloured leaves on the tree by printing them in the paint.
Notes
Pouring the paints you want to use onto a reusable plate first makes them much easier to access and it doesn't matter if the paints mix up a bit either. You could also choose to use just red and yellow paints and see if your child can mix up an orange to use for their painting.
Tried this?
Mention @craftsonsea - we'd love to see and maybe share it!
Autumn Crafts for Kids
Autumn is such a visually stunning time of year that it's great to try and make the most of it with some easy autumn crafts that celebrate this time of year.
One of my kids favourites are these autumn leaf suncatchers that look great hung up in a window.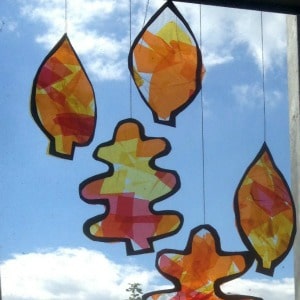 This stained glass pumpkin suncatcher is one that my kids originally made for Halloween but by leaving off the Jack O'Lantern details you can absolutely use this as an autumn craft too and it's another great one for talking about colour mixing.
Or for more decorating fun why not grab our free autumn leaves template with lots of different designs.