Black glue is a funny medium to work with but it certainly makes a change from crayons or normal painting! This black glue autumn leaf craft uses black glue and paints to create an effect of the autumn colours mixing together and changing.
What You'll Find on This Page
Autumn leaf craft materials:
Black glue
Paper or card
Paintbrush
Watercolour paints
Let's make it:
The instructions for this craft are really simple – start by drawing an outline of some leaves onto some paper or card. I've used white because it shows the colours of the leaves better and card will work better than paper as it helps to hold the moisture from the paint or glue.
I'm going to be honest here and say that I think black glue is a little hard to work with – not because it's insanely difficult to squeeze a glue tube (it's not) but just because it's a different kind of medium to work with and understandable behaves a bit differently to felt tips or normal paint. If you think of it as drawing with the paint that's dripping off a paintbrush rather than painting with the brush it's that kind of thing! I don't say this to put you off though, I think it's really good to try different ways of creating!
For the paints I've used watercolours – the super cheap ones my daughter got in the pound shop. The reason for this is they blend so nicely which means that as you are adding reads, yellows and greens the paints will mix together a bit looking more like autumn colours, a great way to teach about colour mixing too!
Like this post? Make sure that you pin an image so you don't forget about it. Want more autumn craft ideas for kids? Check out the links below.
Autumn Crafts for Kids
We love these pretty autumn leaf suncatchers, perfect for hanging in the window.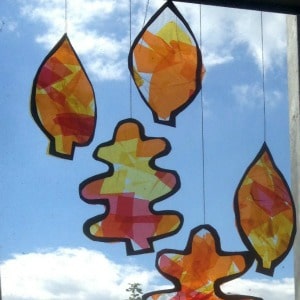 This mess free pumpkin activity is perfect for learning about colour mixing.
Want more inspiration? Check out this round up of autumn activities for preschoolers with over 45 fun ideas.