I love sharing free templates on this site because it's so nice in return when I get too see pictures of peoples kids using them and I hope that you'll get some use out of this cute free hedgehog template too – perfect for some fun fall crafting!
This hedgehog craft template is perfect for encouraging creativity in kids of all ages, so no matter whether you want to use this as a hedgehog coloring sheet, add some fall leaves or paper spikes it's a fun way to welcome in the change in seasons and learn about these gorgeous animals together.
What You'll Find on This Page
Free Hedgehog Craft Template
Hedgehogs are such adorable animals and they're ones that are perfect for inspiring some fall themed crafts too.
Hedgehogs can be a little tricky to draw though, so this printable is perfect for helping you to create some easy hedgehog crafts at home or if you are in a classroom or preschool and want to be able to do an activity with a group as once you have the download you can print as many copies as you like.
This craft template would also be perfect for using after you've spent some time outdoors looking for natural materials.
If you like this craft but can't print it out right now then make sure that you either bookmark this page or pin an image for later so that you'll have it to hand when you need it.
Make sure to print the PDF and not the images in this post though or it won't print properly.
If you are using this template to make some crafts that use a lot of paint, glue or natural materials the I recommend printing it onto white cardstock rather than paper. This is because the paint and glue can make it over saturated and the twigs, autumn leaves, moss or flowers can weigh it down and you don't want to risk getting a tear in your cute fall craft!
Hedgehog Craft Ideas
Color or paint it: there's absolutely nothing wrong with just grabbing your crayons, coloring pencils or markers to color in this hedgehog. It's a really simple way to keep your kids entertained and they can give their hedgehog a cute little face too.
Use sticks for the spikes: pop some double sided tape onto your hedgehogs spikes and stick on some sticks that you've collected from your garden or a walk outside.
Leaf Hedgehog: This is such a classic craft idea but it's classic for a reason, it looks fantastic! This PDF is perfect for using as a leaf hedgehog template. Just add double sided tape to your hedgehog and use this to glue the leaves down. I'd recommend double sided tape rather than using a glue stick or PVA glue as glue sticks will struggle to hold down the irregular shapes of the leaves and PVA takes ages to dry.
Handprint hedgehog: I made this easy handprint hedgehog craft with my daughter using this template. This would make a nice keepsake too!
Paper strips: as an easy scissor skills activity we made this paper hedgehog craft using brown paper.
More Printables for Kids Crafts
There are loads of free templates on this site but why not check out some of our favourites that are perfect for autumn? This free tree template is always popular and I've shared lots of ideas on how to use it.
This acorn template is great for colleges and we've used it for process art too.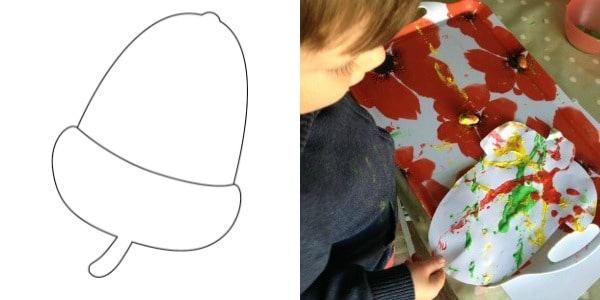 This pumpkin template is great for Harvest and Thanksgiving although as you can see we've used it for Halloween too.
How To Get Your Free Printable Hedgehog Template
To get your free hedgehog template just subscribe below in the box. We won't send you spam and you can unsubscribe at any time.
Once you've confirmed your email address your templates will be delivered to your inbox as a free gift.
Please make sure to check ALL your email folders for the confirmation email and make sure you press the confirm subscription button.