Owl crafts are perfect for fall or learning about woodland animals and our build an owl craft is perfect for kids to make, helping support their scissor skills too.
Kids can color, cut and paste this cute owl and in this post you'll find some easy ideas for how you can display your craft as well as some more of our favorite owl crafts for kids.
We have included affiliate links to some of the products and resources and as an associate we may earn from qualifying purchases.
What You'll Find on This Page
Build An Owl Craft
As much as I love summer there's something about the season change to fall that get's me excited about all the fun activities that I can do with my kids.
Between the start of the new academic year and the changing colors outside it gets me really excited to create some fun crafts and I think that this craft is perfect for making on those wet weather days when you want something easy and fun to do at home or in your classroom.
I love cut and paste crafts and they're something that my kids really enjoy too, there's something about the actual act of building and making something that's just really satisfying and this free download makes it really easy for your kids to make adorable owl crafts that they will love!
Owl Craft Supplies
Build an owl PDF
Glue
Coloring materials – markers, crayons or coloring pencils
Optional – stick
Cut And Paste Owl Craft
Start by printing out your owl craft template onto white cardstock or printer paper. You can absolutely just use normal paper for this craft (I have) but if you want something a little more sturdy for little hands to play with then go for the cardstock.
Next color in all the parts of your owl. You can go for traditional browns or mix it up with whatever colors your kids love the most – we've made pink and purple owls for Valentines Day before!
Now cut all the pieces of your craft out and it's time to stick them together. Onto your owl's body glue on their face and then their eyes and beak.
You then have the two wings and the owls feet to glue onto the lower part of their body. You can add the perch we've provided for your owl to stand on or why not use this as an excuse to get outdoors and hunt for a real stick that you can glue on for your owl to rest on?
If you'd like to display your owl craft why not glue it to a toilet roll so that it can stand up or you could glue it onto a paper plate and color in the background or add some tree bark.
Why not stick it onto a paper bag so that you can use it as a puppet? You could do some great role play with our other cut and paste crafts!
Owl Books For Kids
I love to pair an activity with a book, it's the perfect opportunity to have some chilled out time together. These owl books are all great for kids and would be perfect to share together after making this craft.
More Owl Crafts For Kids
Owl crafts have to be some of my favorites to make so we've made quite a lot over the years!
All of these crafts are really easy to adapt depending on whether you want to make a brown owl or a snowy owl – normally you can just swap the colors out to suit your project.
On this site I've shared a lot of free templates for kids crafts because they're  a great way to help you get started on a creative project with your kiddos without having to spend a ton of money.
For this paper owl craft we've used our free owl template and printed the feathers with a cardboard tube for an easy twist on traditional toilet roll owl crafts that's perfect for toddlers and kindergarteners.
Corks or celery would work well for this too if you don't have any cardboard tubes.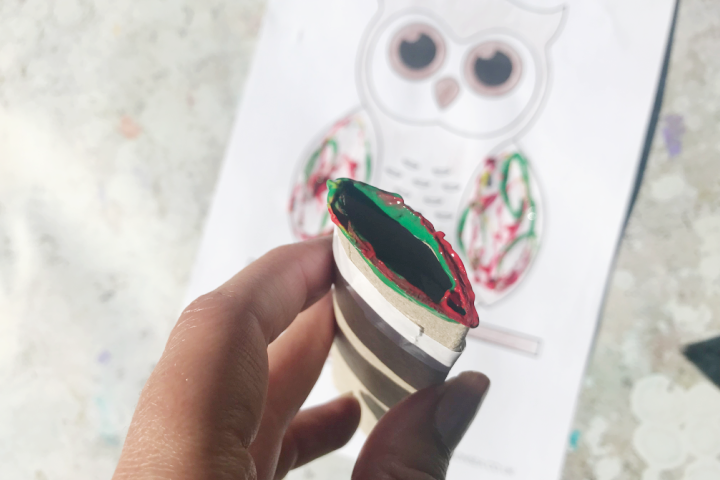 Speaking of which, I made this toilet roll snowy owl craft with my kids when they were really young – I think I had one who had just started school and one preschooler.
Both of them loved creating them and I really liked the way they changed the owl's wings to go up or down.
Finally this paper bag owl is a fun way to practice scissor skills and I love that you can use it as a puppet afterwards.
How To Get Your Free Printable Owl Craft
To get your free printable owl craft just subscribe below in the box. We won't send you spam and you can unsubscribe at any time.
Once you've confirmed your email address your craft template will be delivered to your inbox as a free gift.
Please make sure to check ALL your email folders for the confirmation email and make sure you press the confirm subscription button.