This is such a quick and simple activity but it's a fun one and if you use our free template you can create some pretty autumn art to hang on the wall. Plus it's a great excuse to go out and look for pinecones – what's not to love about that!
Pinecone rolling
We've shared a couple of super clean autumn activities before like this mess free autumn tree craft but I think it's good to get a little bit messy sometimes, right? Besides this isn't too messy – I'm not talking filling bowls with baked beans here and yes I have seen that at sensory play groups before!
Want to see this in action? Check out the video below but if you'd prefer to read how it's done you'll find the instructions along with the link for the free autumn leaves template underneath. If you want to make sure you don't forget this fun activity make sure you bookmark or pin this page or for more fun autumn activities for kids check out our favourite ideas at the end of this post.
You can of course do your pinecone rolling on a plain bit of paper, draw your own shapes or you can grab our free autumn leaves template – just click through the link!
We've previously done some rolling acorn painting and this is really similar – just go with what you can find! Stick your autumn leaves printable or plain paper onto a tray and then dip your pinecone into some paint and get rolling. The paint makes the pinecones stick to the paper a bit more but that's fine, just give it a bit of a shake! If you want to hang up your art afterwards just cut the leaves out, they'd look great tied together to make some autumn bunting too.
More Autumn Activities for Kids
These autumn leaf suncatchers are great fun to make and look brilliant hung in a window.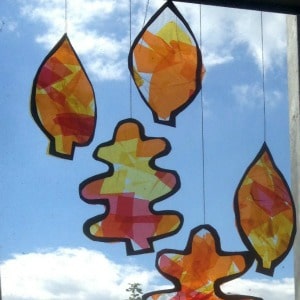 Or we've got four autumn tree painting ideas plus a free printable to try it out with.
Finally these balloon printed apples are a lot of fun to create and a very different painting technique!