Aren't these Thanksgiving activities for preschoolers the best?! We love sharing activities for preschoolers, it's such a fun time in kids lives for learning and creating and as a parent it's great to be able to join in with all of that!
Today I'm sharing loads of inspiration you'll both love with easy crafts, coloring pages, science activities and fine motor activities.
I have included links to affiliate programmes in this post if you click on these and buy I may earn a small commission. Affiliate links in the text are marked with an asterisk.
Because this is quite a big list of ideas I've split it into two sections to make it easier to navigate Thanksgiving Crafts for Preschoolers and Thanksgiving Preschool Activities. You'll also find a list of some Thanksgiving books to share with your preschooler and some links to more of our activities for preschoolers at the end of this post.
Want some super quick activities? Make sure you grab our free pumpkin template and check out our ideas for how to use it with your child.
Thanksgiving Activities for Preschoolers
Want to make sure you don't forget any of these ideas? Thanksgiving is a busy time of year so make sure that you bookmark this page or pin an image so that you've got all these ideas to hand when you need them.
In both cases you'll find the activities listed in the same order that they appear in the two corresponding images below, of course there's far more ideas than you'll find in the images though so take a good read through and find some new activities to try out with your kids this year.
Thanksgiving Crafts for Preschoolers
This pumpkin pie craft is perfect for encouraging kids to think about what they're thankful for.
Pom poms are a great way for preschoolers to encourage their hand-eye coordination and fine motor skills and this paper plate turkey craft that uses them is a fun way for them to try it out!
My preschoolers loved making this feather painted turkey craft as a fun alternative to using a normal paintbrush
This coffee filter turkey uses gorgeous bright colours
Decorate your door by making this sweet turkey footprint wreath
Make a fun Thanksgiving card with this sweet turkey handprint craft.
I love crafts that can be played with afterwards and this paper bag turkey craft would make a fantastic DIY puppet too.
This tissue paper corn craft is really easy to make and uses one of our free templates.
Make this handprint paper plate turkey together using our turkey printable.
This paper plate Mayflower Ship craft is movable so your ship can sail across the sea!
My kids were two and four when they made these stained glass turkeys and I love  the way they look in the light.
This cupcake liner turkey craft is a great way to use up some materials hiding in your kitchen cupboards.
This button pumpkin craft is a good way to work on fine motor skills.
This paper plate turkey wreath is really cute
Create a turkey from a paper plate and yarn
Any craft that contains chocolate is always going to be a winner with my kids!
These turkey place cards would look great at the table
This foam turkey craft looks really cute and I love  the colours in it
Encourage some thankfulness with this cardboard turkey craft
Nature crafts are a great excuse for a walk outdoors, head to the woods then make this pine cone turkey
Thanksgiving Preschool Activities
These chocolate pretzel turkeys look easy to make and delicious!
Got some bubble wrap at home? This paper plate turkey craft is the perfect way to use it up., see how we made it in the video below or click through for the instructions.
This pumpkin pie slime is totally edible so it's safe for preschoolers to play with
Grab the salt to make this pretty turkey painting
We love this gorgeous free Thanksgiving coloring page for kids
I love activities that make learning fun and this colour mixing pumpkin activity can be used to teach mark making or letter formation too.
Make this foil painted pumpkin craft using our free template.
Color in these sweet printable Thanksgiving notes for kids and let someone know how grateful you are for them.
Why not try making your own placemats for Thanksgiving? These ones look gorgeous.
Make a 3D turkey
The feathers on this paper roll turkey would be a great way to practice scissor skills.
A fun little turkey fine motor activity
Preschoolers are great for starting to try out some simple science activities with and this Mayflower themed one is perfect for Thanksgiving
These turkey counting mats are a great idea and I love how they've used feathers with them
I bet this pumpkin pie play dough smells fantastic!
This textured turkey activity is great for pre-writing
How cool is this tablecloth drawing prompt?! It's a great way too to keep kids busy while they're waiting to eat.
Make some Mayflower cups to celebrate Thanksgiving
Thanksgiving Books for Preschoolers
After being busy making and creating Thanksgiving is a great excuse to snuggle down with a story. We're looking forward to sharing these stories together:
More Activities
Grab your free template and try out these fall tree painting ideas
These fall leaf suncatchers look great hung up in a window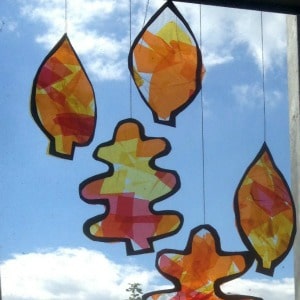 This free fall coloring page would be perfect for Thanksgiving too