This mess free colour mixing pumpkin activity is perfect for kids and for parents. Why? Well it's great for kids because it's fun to play with and it helps teach about making colours and mark making and it's great for parents because it's mess free! This mess free pumpkin is similar to the mess free autumn tree we made last year so if you like mess free activities for kids it's worth checking that one out too!
What You'll Find on This Page
For this colour mixing pumpkin activity you will need:
*I have included links to affiliate programmes in this post if you click on these and buy I may earn a small commission*
Red Paint
Optional – packaging tape
Lets make it:
This is actually an old post but I've given it a bit of an update and as it's been so popular in the past I thought I'd re-share it.
Want to see how I made this? Check out the video below which also shares how to easily change this into a cute Halloween activity. Prefer written instructions? You'll find them below the video. If you like this activity make sure that you bookmark this page or pin an image so you don't forget about it. Want more autumn crafts and activities for kids? You'll find them at the end of this post.
To make your squishy paint pumpkin first draw a pumpkin shape onto your ziplock bag. I find that the cheaper felt tips tend to be no good for this so although these ones cost a bit more I genuinely do use them for everything!
Open the bag and put some red and yellow paint in the middle of the pumpkin. Carefully close the bag and zip it up – if you are giving this to a young kid and want to be super careful then seal the opening with packaging tape too.
You can now mix the red and yellow paints together to make an orange pumpkin, For older kids as well as colour mixing you could use the squishy paint bag as a way of practising mark making or letters too, drawing the letters in the paint.
Don't forget to check out my book of 30 totally achievable and fun Halloween crafts for kids for more fun ideas.


More autumn crafts for kids
We love these autumn leaf suncatchers and they look great on a sunny day!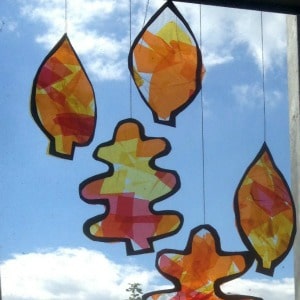 Want to keep the kids outdoors when you can? These easy bird feeders are a great way to look after your local wildlife too.
Finally why not check out this round up of autumn crafts and activities for toddlers with over 40 fun ideas.