Need something simple to make with your child? This tissue paper corn craft works across so many themes meaning that it's a good one to keep in your back pocket when you need 'something' to do.
Tissue paper is a great craft to use with your child. Not only is it really cheap but it doesn't matter if you tear it, in fact we'll be encouraging that, and it feels and sounds good too.
What You'll Find on This Page
Corn Crafts
Corn crafts are ones that can be used for alot of things during autumn, as well as the season itself it fits in well with harvest festivals, Thanksgiving and farms.
Free Corn Template
This craft was made using our free corn template. There are two different designs and you can print as many copies as you like which is always helpful if you are doing an activity with a group – no one wants to draw thirty versions of the same thing if they can avoid it!
Tissue Paper Corn Craft
Start by printing out our free corn template which you can find the details of above. If your child is likely to use a lot of glue you might like to consider printing this onto card or cardstock instead.
Using a colouring pen, pencil or crayon colour the leaves of your corn green.
Next cover the main part of your corn in glue. I find that for crafts like this PVA (school glue) tends to work best due to the shape of the paper that you'll be sticking on.
Grab some yellow tissue paper and tear it into pieces. There's a good article on The OT Toolbox which discusses the benefits of fine motor play with tissue paper as it's really for kids to use this material. I find that the sounds and feel of the tissue paper is also a good one to have a chat with your child about.
Take small pieces of the tissue paper and make it into small balls before gluing each one onto your template so that they look like pieces of corn. As well as yellow you could also use yellow or whites or you could also look out for other colours that you may see on corn – we've seen some amazing purple ones in pictures recently.
Harvest Themed Crafts for Kids
We've shared lots of ideas which would work well alongside this activity. All of these are harvest themed but would go well with other autumn themes too.
This printable harvest basket has sunflowers and scarecrows on it and is perfect for popping a little snack in it.
These paper bag scarecrows are based on the book The Scarecrows Wedding by Julia Donaldson but if you haven't read the book you could just design your own faces for them.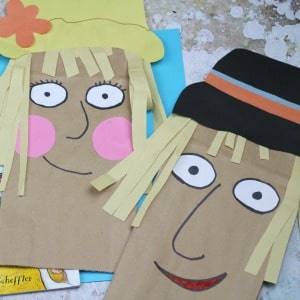 Printing with apples is a classic autumn and harvest craft and this apple painting craft uses our free apple template with it.
Materials
Corn template

Tissue paper

yellow
Instructions
Print out the free corn template and colour the leaves in green.

Cover the main part of the corn plant with glue.

Tear the tissue paper into pieces and scrunch these into ball shapes.

Stick the yellow sweetcorn balls onto your corn template.
Notes
I've used yellow tissue for this craft but you could add different colours depending on what you have at home, oranges and whites would also look good.
Tried this?
Mention @craftsonsea - we'd love to see and maybe share it!