This free printable candy cane template is perfect for some easy to set up and make Christmas crafts for kids. It's free for you to grab and print and as usual I'll be sharing some easy candy cane crafts for kids that you can make using this template.
RELATED POSTS Free Templates for Kids Crafts
Printable Candy Cane Template
Templates are a great way to craft with kids and a cheap way to do so too, especially at Christmas when a lot of us are trying to be mindful of how much money we spend.
While candy canes can be pretty easy to draw I personally like it when I have the stress taken off me of creating a perfect drawing for my children and if you're doing craft projects with more than one child then it's nice not to have to draw the same thing again and again. Templates like this can be especially helpful if you're in a preschool or classroom so that you don't have to draw the same thing 30 times or more!
Candy canes are something that really signify Christmas both for kids and adults and their simple pattern mean that they're a great one for decorating, as long as you can find something red or white in your house then basically you're good to go!
As well as some ideas for candy cane crafts and activities that you can make with this template I'll also be sharing details of more of our favourite printable templates that are perfect for the holiday season.
How Can I Decorate a Paper Candy Cane?
For this template you can use paper or cardstock to print on but if your craft includes a lot of glue or paint then I'd recommend choosing cardstock so that it doesn't become saturated, you don't want your craft to tear.
Coloring Always the most simple idea and one that's always popular too. Just grab some markers and you can use these as candy cane coloring pages.
Finger print painting Print the template onto green paper and use red and white fingerprints to colour in the candy cane pattern.
Cotton wool Make a cotton wool candy cane like this one I made with my children.
Buttons Print the template onto green paper and stick on red and white buttons to colour in the candy cane.
Pom pom painting Colour in the stripes using red and white pom poms.
Play dough Place the template in a self laminating sheet* and use it as a playdough mat.
Christmas decorations If you choose to print your template onto card stock then you could attach string or ribbon at the back with some tape and use these to make card ornaments or bunting.
More Christmas Themed Printables
All of these templates are free for classroom and personal use and with each we've also shared lots of Christmas craft ideas for how to use them.
Our angel template has two designs so that you can add the wings on for your craft if you would like.
Our Christmas stocking template is a great one to encourage bit of creativity as you can design your own pattern for it, maybe add a Christmas tree or Santa to it!
Finally our snowflake template is popular every year for both Christmas and the rest of the winter season with two different sizes of snowflakes available.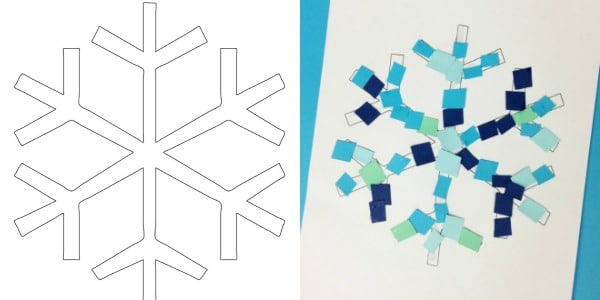 How To Get Your Candy Cane PDF
Click here to get your candy cane template.