As we head into February I thought it was about time to share some easy Valentines Day crafts for toddlers with this round up of fun ideas.
We love sharing crafts for toddlers and there's lots of simple and sweet ideas today including cards, keepsakes and painting ideas.
Many of these would make great valentines day crafts for kids of all ages but I've chosen them because I think they'll be perfect for toddlers to join in with and help share the love!
We have included affiliate links to some of the products and resources and as an associate we may earn from qualifying purchases.
What You'll Find on This Page
Valentine Crafts for Toddlers
Is there anything sweeter than Valentines crafts made by children? As a mom being handed a Valentine from your child is lovely and something you'll want to keep, they also make great keepsakes for grandparents too.
Crafting with toddlers is fun as they love to get involved and get hands on with doing something creative.
Some of these easy Valentines Day crafts are ones that I've done with my own children while others are from bloggers that I love.
Most of these easy craft ideas are made with materials that you are likely to have at home already such as stickers, markers and cardstock meaning that you can start getting creative straight away.
While this list is aimed at toddlers you'll find that most of these activities are totally suitable for preschoolers too and there's lots that are good for making in a classroom as well – always helpful if you have more than one kiddo at home or in a group. Just take a look and see what works best for you.
This is a list that has grown over the years as I've shared more Valentines day ideas for toddlers so it's a great one to bookmark or save to Pinterest as more ideas get added all the time.
Easy Valentines Day Crafts for Toddlers
In this round up you'll find lots of ideas for Valentines Day crafts that toddlers can make as well as some ideas for Valentines Day books to share together – perfect for cuddling up together on the sofa.
Obviously there can be quite a difference in what a kid can make who has just turned one and what a kid who is about to turn three can do so do take a look through the list and see what ones you think would interest your child and suit their abilities – and of course the most important thing is to have some fun together!
As usual you will need to supervise your child for the duration of these crafts especially where small parts are involved.
You'll find all of the fun Valentine's day crafts I've listed today in the same order that they appear in the collages below to make it a bit easier for you to find the ones you fancy the look of.
There's more ideas than are just shown in the collages though so do take a look through and find some new ideas to try out this year.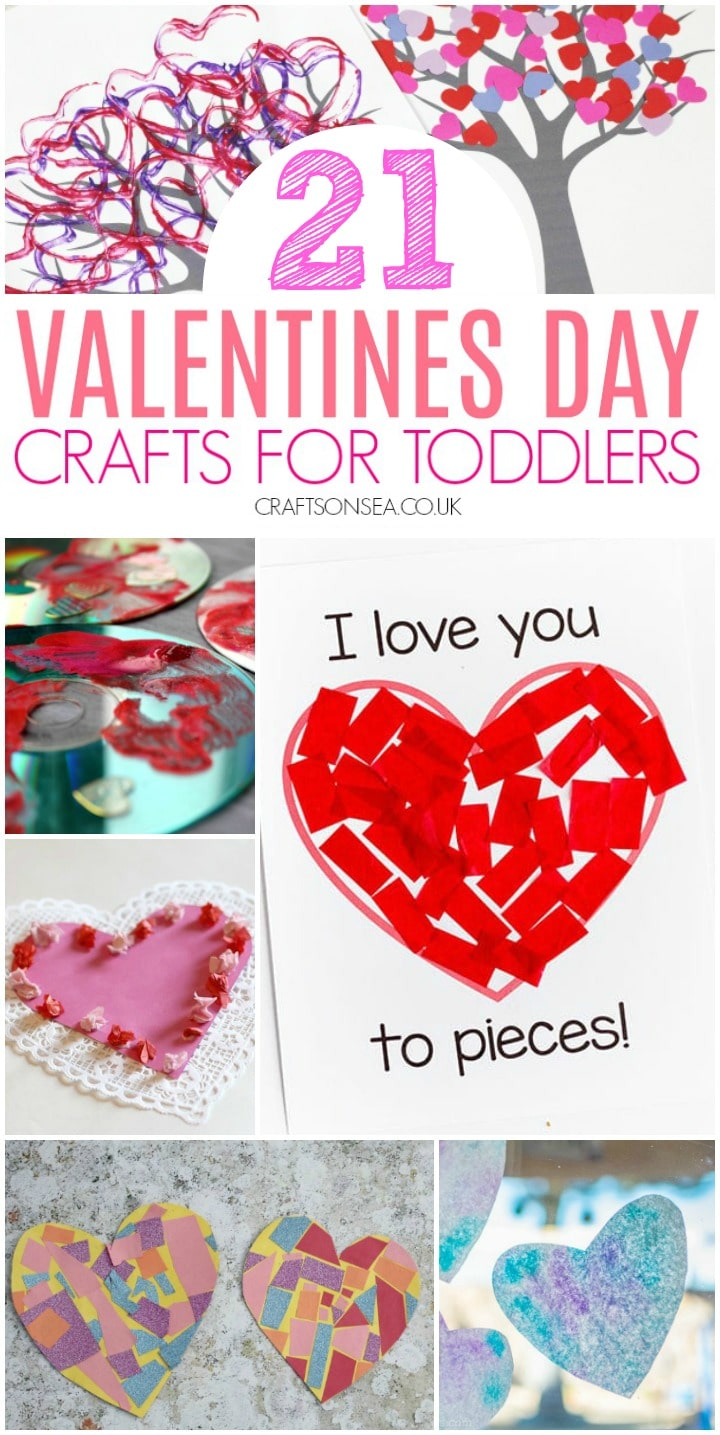 Make some simple Valentines tree crafts like these ones decorated with heart confetti or painted with cardboard tube stamps- we have a free tree template you can use to make these or you could try making the tree trunk using handprints.
Find some old CDs or DVDs for this simple craft.
Set up an invitation to create for a fun way to make some sweet Valentines Day crafts with tissue paper and doilies.
Grab the free printable and follow the simple instructions to make a cute I Love You To Pieces card.
Older toddlers can help cut out the shapes for this mosaic heart craft and get some practice using scissors while younger ones will be fine just gluing them onto the shape (good for fine motor skills too!)
I love the way these coffee filter hearts turned out.
Print out and colour these cute bunny valentines which are a good way for older toddlers to practice their scissor skills too.
Make some simple heart crafts for kids using our free heart template.
We made these simple washi tape Valentines cards during a playdate and they were fun for the kids to make and they enjoyed giving them to each other too., plus there wasn't too much mess!
Have you tried painting on foil? This Valentines themed craft for painting on foil and glue is one that I did with my daughter.
We love suncatcher crafts and these heart suncatchers from Teaching 2 and 3 Year Olds look great and a brilliant way to brighten a room up.
These heart cards from Non Toy Gifts look great and are a great way to create with some different materials to normal.
Looking for someone to Bee Mine this Valentines Day? This valentines themed paper plate craft from Red Ted Art is super cute with its doily wings and googly eyes.
We made these painted cotton wool hearts.
These clay heart ornaments with glitter are a cute make for kids and can be hung up on Valentines trees with some yarn or bakers twine. (You could use salt dough too)
These paper hearts made from old newspapers are a good way to do some crafting with a bit of recycling.
Have you tried painting with marbles? This is a great activity that you could use to make Valentines Day cards with.
Painting using shaving foam sounds like great fun for toddlers and you could help cut out the heart shapes in this craft to make cards or a garland.
My daughter had great fun creating a DIY stamp for making these foil painted hearts.
Another of our playdate makes, grab the glue sticks and construction paper for these Valentines Day wreaths which were made when my daughter was two.
Make some DIY heart stamps from toilet paper rolls, perfect for painting with.
Grab a paper plate and make this simple Valentines heart tree craft.
Cut out the cardboard hearts in advance and toddlers can decorate this photo wreath craft with love hearts.
Print and colour these cute lion themed Valentines cards for kids.
Grab your salad spinner and make these fun painted hearts.
Arts and Crackers shares a simple love bug craft that looks super cute and easy to make.
These super sweet Valentine's day cards can be printed and coloured in by your child, perfect for friends or family.
This fingerprint craft from Messy Little Monster with a printable poem would make lovely Valentine's Day gifts or keepsakes.
This tried and tested glittery heart craft looks great and I loved seeing how easy this was for little hands to make!
Valentines Day Books For Toddlers
After a busy time crafting why not settle down together to share a story? We love sharing books together and have always used one of these bookcases which are great for younger kids to be able to find their favourites. These Valentines themed books all look fantastic – which would you add to your collection?
More Crafts for Toddlers
We love sharing ideas that you can make with young kids and this round up of weather crafts for toddlers has been super popular with parents.
For those of you who have a Rod Campbell fan at home this round up of Dear Zoo activities and crafts is perfect – we read this book* so many times!
Finally with Valentines Day on it's way that means the next thing to celebrate is spring arriving – whoop! Check out our spring crafts for toddlers here.