Looking for some easy Harvest crafts? These activities for kids are always popular during autumn as people start looking for some creative ideas for Harvest Festival or as a good way to look at farming and the change in seasons.
Scarecrows, apple and vegetable crafts and even some autumn leaf crafts are great for harvest crafts and there's lots of simple DIY ideas that you can make with your children or at preschool or Sunday School.
We've also got lots of free templates that are suitable for this time of year to help make preparing activities even easier.
I have included links to affiliate programmes in this post if you click on these and buy I may earn a small commission. 
What You'll Find on This Page
Harvest Crafts
Harvest is a great theme for kids as it looks both looks at farms and farming but it also can be used to include talking about giving.
As a child I really remember the Harvest Festivals we had at school where we would be encouraged to bring some tins of food for a local care home and now my children have similar collections in their schools for the local food bank.
As well as these harvest crafts for kids I'll also be sharing some harvest themed books, which are great if this is a topic you'd like to look more at with your child or just if, like us, you love a themed story to go along with your crafting!
Harvest Themed Templates for Kids Crafts
As well as the crafts below we've also shared a couple of free templates which are perfect for harvest. With all of these we've shared ideas on how to use them or you could use them as harvest colouring pages too.
Harvest Craft Ideas
Free Printable Harvest Craft
This cute scarecrow craft comes with a free printable that my kids thought was great for snack time!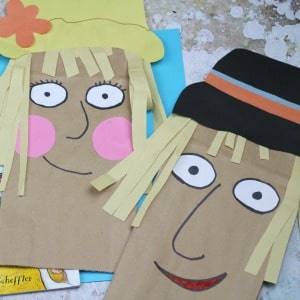 Paper Bag Scarecrows
Have you read The Scarecrows Wedding? I made this scarecrow puppet craft to go alongside it using paper bags. These are great for kids to play with too.
Cut and Paste Scarecrow Craft
I love this cute build a scarecrow craft which is a great way for kids to practice their scissor skills and the printable is free to download too.
Easy Corn Craft
We love simple crafts that younger children can join in with creating and this simple lego stamped corn craft from Crafty Morning is perfect with it's fun alternative to using a paintbrush.
Paper Plate Scarecrow
Paper plate crafts are always popular both at home and in classrooms and Sunday Schools as they're such an affordable craft material and one that is easy to get hold of too. You can make this simple paper plate scarecrow craft using our free template with kids designing their own fields in the background and then adding the paper scarecrow to it.
Fall Coloring Page
This free colouring page would work well as an easy harvest activity for kids with its pumpkins, apples and fall leaves. All you need to do is grab some markers or coloring pencils and you're ready to go.
Painted Pumpkin Craft
This foil printed pumpkin craft is really easy to make and can be done with our pumpkin template to make it easier to set up.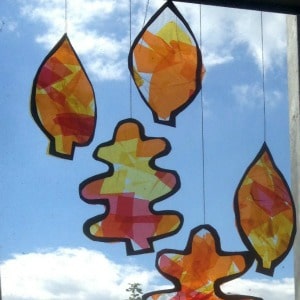 Fall Leaf Suncatchers
These leaf suncatchers look great hung up in a window and I used them with my kids as an easy and practical way to discuss colour mixing too. This was a really popular activity in our home and continues to be popular with kids every fall.
Apple Stamping
Use our free apple template to make this simple apple painting craft.
Scrunched Paper Apples
This simple apple craft is perfect for toddlers and preschoolers who can have fun scrunching the paper and gluing.
Paper Plate Apples
This apple craft uses cotton wool for a really easy to set up harvest craft.
Apple Tree Craft
I made this pom pom apple tree with my daughter when she was a toddler. Obviously you will need to supervise your child during this (as you would do during any activity) but it's one that she really enjoyed and it's good for fine motor skills too. Any apples which don't quite make it onto the tree's branches can be windfall!
Apple Suncatchers
Yes we have made quite a few suncatcher crafts but my kids loved them! These apple suncatchers are simple to make and you can do red, green or a mixture of both!
Hole Punch Corn Craft
Use a hole punch, scrap paper and our corn template to make this corn craft.
Button Pumpkin
I made this super easy button craft with my daughter when she was a toddler, as it uses buttons it's obviously one that requires supervision (as are all crafts with toddlers really) but it's good for fine motor skills and she really enjoyed it.
Bubble Wrap Printed Fruit and Vegetables
I love this bubble wrap printed fruit and veg craft from In The Playroom, these would be great to make and use to decorate a classroom or Sunday School too!
Harvest Books for Kids
Looking for a harvest themed story you can share together? Why not check out one of these!
More Autumn Crafts for Kids
Fancy making some more autumn or fall themed crafts with your child? We love this collection of leaf crafts for kids to make!