This free printable Halloween scavenger hunt is perfect for keeping the kids entertained over the spookiest time of the year!
Perfect for a walk around your neighbourhood before trick or treating (I'm not sure my kids could handle any more excitement then?!), if you're avoiding trick or treating this year but still want to have a walk in all the fun (possibly also us this year) or in classrooms. You could also use this as a scavenger hunt around your own home or a friends house. With so many ideas all that's waiting is for you to print it and get started.
RELATED ACTIVITIES: Scavenger Hunt Ideas
Halloween Scavenger Hunt
This scavenger hunt has been designed so that you can colour in each item as you find it. Of course you can just tick them off your list but I think colouring is that little bit more fun. Having the pictures also make this easier for all ages to join in, older kids can read the words while younger kids will be able to recognise the pictures.
Scavenger hunts are great fun for kids as they love looking for all the items. You can either do this as individuals or teams racing against each other to see who can find the most items the quickest.
Personally my own kids are normally happy to work as a team together to find everything so if you don't want to do this as a competition then you certainly don't have to. I often just use scavenger hunts as a way to get them outside for a bit – going looking for items on a list sounds a lot more fun than a normal walk.
You can get this template at the bottom of this page by subscribing the free Crafts on Sea newsletter,
Halloween Scavenger Hunt Supplies:
Printable scavenger hunt
Markers or colouring pencils
Clipboard
Halloween Scavenger Hunt List:
For this scavenger hunt you'll be looking out for the following items:
Cauldron
Costume
Spiders web
Bowl of candy
Decorated house
Witches hat
Black cat
Spider
Pumpkin
Homemade decoration
Bat
Ghost
Skeleton
More Halloween Activities for Kids
This easy ghost craft has been a big hit with parents and it's so simple to make you can see why!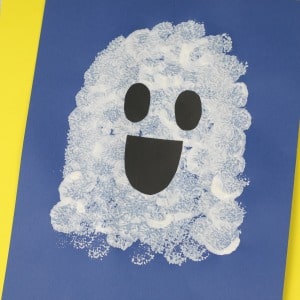 This pumpkin suncatcher is one that my kids made and it's super easy as well as being super cute! There's a video tutorial to help you create it too.
Use our free template to make this simple resist art ghost craft.
Halloween Scavenger Hunt Printable
To get your free scavenger hunt just subscribe below in the box. We won't send you spam and you can unsubscribe at any time.
Once you've confirmed your email address your printable will be delivered to your inbox as a free gift.