This printable scarecrow template is perfect for autumn and harvest crafts! We love to share free templates for kids craft to help encourage their creativity and this PDF is perfect for helping kids to design their own scarecrow.
You could use it simply for colouring or try out one of our scarecrow crafts and activities below. This printable is perfect for using at home with your child but it can also be used at school and preschools and we think it would look great cut out and put on a display board.
What You'll Find on This Page
Scarecrow Template
Living in the countryside we have seen quite a few scarecrows but my favourites are always the ones that show a bit of creativity and flare. With this free printable your child can add their own artistic flare, either just grabbing colouring pens or paints or trying out one activities below.
You can get this PDF at the bottom of this page by subscribing to the free Crafts on Sea newsletter.
Crafts and Activity Ideas
Colouring: this template is prefect for colouring and it's the most easy way to decorate it too. Just grab some colouring pencils or pens or your favourite paints and paintbrush and get creative.
Paper Plate Scarecrow Craft: Check out our tutorial for our paper plate scarecrow craft with it's farm background.
Playdough Mat: As our printable doesn't have a face it would be a fun one to use for a playdough mat. Grab some playdough and roll some out to make a mouth and use little balls to make the eyes. You could stick down some playdough hair too. If you'd like to use this as a playdough mat you might find it useful to laminate the PDF first.
Scrap Paper Mosaic: Cut squares and rectangles from scrap paper and glue them on to your scarecrow. As scarecrows are traditionally a bit messy this kind of make do craft from old materials feels pretty appropriate! I'd stick them onto the scarecrows top and draw in the face but you can do whatever way you prefer.
Torn Paper: Again torn paper feels like a good option for a bit of a messy craft! Just tear up scraps of paper and glue them onto your scarecrows hat and top to decorate them.
More Scarecrow Crafts
We love The Scarecrows Wedding by Julia Donaldson which this Scarecrow's Wedding craft is based on, but even if you haven't read it you could use this activity as a way to create your own scarecrows.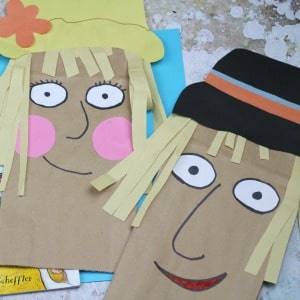 Or why not print out our free scarecrow craft and make these cute baskets that are perfect for Thanksgiving or Harvest.
We also have a build your own scarecrow cut and paste printable so that kids can create their own scarecrow.
Scarecrow Template Printable
To get your free scarecrow template just subscribe below in the box.
Once you've confirmed your email address your template will be delivered to your inbox as a free gift.