Looking for a printable snowman template that you can use for some easy winter art with your child? We've got you covered!
With the colder days here it makes sense to find some easy and fun activities that you can do indoors with your child and this free PDF is perfect for encouraging some creativity.
We've also got lots of ideas for snowman art and crafts that you can make using this template which we'll be sharing with you too.
RELATED: Free Templates for Kids Crafts
Snowman Template
Keep warm inside and enjoy some easy winter art ideas with this snowman template!
I love this printable snowman template and it's one that I've used to make a lot of crafts with. You can find the details to the tutorials for all of these below as well as more idea for ways that you can use this.
It would also be great to use for a classroom display, you could print off a copy for each pupil and get them to design their own snowman, all you'd need for this is some pens to add features like buttons and coal eyes but it might also be fun to grab some little sticks to glue on as the snowman's arms.
You can get the snowman template at the bottom of this page by subscribing to the free Crafts on Sea newsletter. You can unsubscribe at any point but we do send out information about lots of free activities like this one!
What Paper Should I Use For Making Snowman Crafts?
As a good rule of thumb if you're using using white paint or paper to colour your snowman then you'll want to print it onto coloured paper to make sure that it shows.
Blue paper is normally best for this as it gives that wintery feel where as black (while looking great with white!) won't show the outline of your template.
If you are using this template to make resist art then white paper is perfect and white paper is great too if you just want to design your own snowman.
Snowman Craft and Activity Ideas
Snowman crafts are really easy to make for kids because after all, if a bit of 'snow' goes amiss then it's just like snow, right? You never can tell exactly where each flake will land!
Play dough mat Print the template onto white paper (you can laminate it if you wish) and use it as a playdough mat. Use your playdough to 'colour in' the snowman's hat and make his eyes, nose and mouth. How about adding a scarf or some buttons? You could make the arms out of playdough or use sticks for them.
Mosaic Use this template to make our snowman mosaic craft, just add black paper for the top hat.
Cotton ball snowman You could use this as a snowman template for cotton balls. Simply cover the main part of the snowman's body with glue and use cotton balls to cover this, making a fun three dimensional craft.
Pom pom painting Grab some pom poms and use this template as an outline to make our pom pom painted snowman. You could try this with cotton balls too if you have some left over!
Finger painting Use finger painting to colour in your snowman.
Cotton bud painting Our cotton bud painted snowman craft was made using this template.
Design your own snowman Use this template as a drawing or painting prompt. Sometimes the easiest ideas are the ones that have worked best with my kids so just print this off and hand it over with a load of pens and see how your child decorates it.
More Free Winter Art Templates
We share a lot of free templates for kids art, they're always really popular with parents and teachers as they're such a simple way to help you set up an activity. There are some of our favourites that are perfect for winter.
Our snowflake templates are always a favourite and there's different sizes available so you can choose which is best for your activity.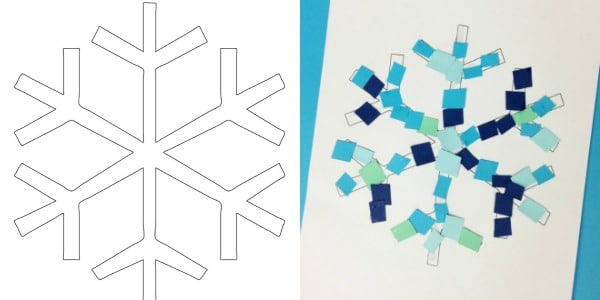 Love playing in the snow? Why not try out our free sled template?
Finally we have two different designs for our hot chocolate template so you can decide which one you'd like to decorate.
Printable Snowman Christmas Card
If you love snowman crafts then be sure to check out our free printable snowman Christmas card that your kids can colour and give to friends and family.
I've shared a video of it on this page so you can see how it's made too, I think it looks fantastic and I hope you'll like it too.
Printable Snowman Template
To get your free snowman template just subscribe below in the box. We won't send you spam and you can unsubscribe at any time.
Once you've confirmed your email address your template will be delivered to your inbox as a free gift.
Please make sure to check ALL your email folders for the confirmation email and make sure you press the confirm subscription button.