Looking for a free printable hot chocolate template? These colder months are all about wrapping up warm and hot chocolate is probably my kids favourite way to warm themselves up!
This printable PDF is prefect for kids arts and as usual I'll be sharing some ideas for how you can use this template with your child to make some fun winter crafts together.
RELATED POSTS – Free Templates for Kids Crafts
What You'll Find on This Page
Hot Chocolate Template
I love hot chocolate and while its a drink that you can have all year round to me it's definitely something that symbolises winter and Christmas.
Grabbing a mug of steaming hot chocolate is perfect on cold days and we love to add all the extras!
You'll find two different hot chocolate printables in the PDF file which you can download. One of the mug templates has steam rising out of it while the other one doesn't
You can choose whichever design you would prefer to print or of course you can print both of them.
You can also print as many copies of this hot chocolate template as you like, meaning that it's perfect if you want to do a craft in your preschool or school classroom without having to draw it thirty times yourself.
You can get these hot chocolate templates at the end of this page by subscribing the free Crafts on Sea newsletter. We won't spam you and you can unsubscribe at any time – however we do send details about templates printables like this which are perfect for keeping your kids entertained!
Hot Chocolate Craft Ideas
Colouring – This is pretty much always the first thing I suggest for all of our templates because it's such an easy way to keep your kids entertained! These templates would make great hot chocolate coloring sheets so why not print them out and design your own mugs, just grab your colouring pencils, markers or crayons. If you want to color your mug then I would recommend printing it on to white paper.
Add pom pom marshmallows – We've made our hot chocolate craft with pom pom marshmallows which I think look great, why not add some snowflakes like our craft too.
Mosaic – Grab the scissors and cut out pieces of card or paper and glue them on to your mug to make a cool design. Reds and greens would be great for a Christmas themed hot chocolate craft or you could use blues for winter. Don't forget some brown paper for the hot chocolate itself.
Add cotton balls – Cotton balls would be great for making the steam from your cup of hot cocoa. Just unravel a cotton wool ball and glue it down onto your template. You could also use cotton balls to make whipped cream on your mug as well.
More Free Templates for Winter Crafts
Over the years we've shared tons of free craft templates and I love seeing your children using them to get creative both at home and at school.
These templates would be perfect for winter and as always I've shared some easy winter craft ideas for ways that you can use them.
This snowflake template comes with two pages of designs on the PDF so that you can choose from large or small snowflakes.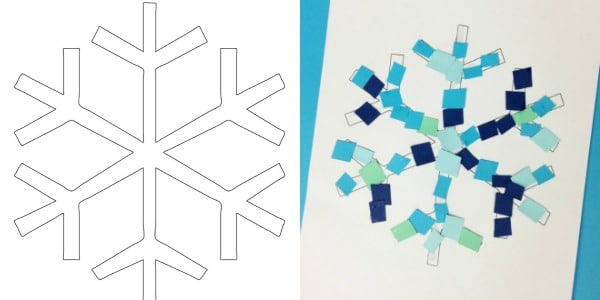 Or why not grab our free printable snowman template. I love this resist art craft that we made with it too.
How To Get Your Hot Chocolate Mug Printable
To get your free hot chocolate templates just subscribe below in the box. We won't send you spam and you can unsubscribe at any time.
Once you've confirmed your email address your templates will be delivered to your inbox as a free gift.
Please make sure to check ALL your email folders for the confirmation email and make sure you press the confirm subscription button.