I'm a big fan of anything that makes doing arts and crafts with kids that bit easier and this simple free snowflake template is perfect if you're doing some winter crafts for kids or looking at weather crafts and activities with them. the snowflake template comes as two PDF's and there are four different snowflake designs for you, one larger easy design that has a page to itself and three smaller snowflake patterns on another page if you fancy doing something a little more detailed or just changing things up a bit.
We've shared lots of snow and snowflake crafts so if you fancy a bit more inspiration why not check out our popular paper plate snowflakes or snowflake paper plate twirler crafts.
We've also got a printable free mittens template that's perfect for some winter crafting too and you can check out our ideas for using it with these winter mittens painting ideas for kids. We share a lot of templates for kids crafts, you can find all our free templates here or check out some of our favourites at the end of this post.
The PDF's I'm sharing here are also the ones that I've used for our easy snowflake crafts so if you'd like to see these free templates in action and get some ideas for how to use this then be sure to check those out too.
Want to make sure you don't forget about or lose these templates? Make sure that you bookmark this page or pin an image so you have them to hand when you need them. Make sure that you print from the download below though and not from the images on this page or the sizes will be wrong and they won't print properly!
Download and print your free snowflake templates here:
Please note that these are for personal or school / preschool use only.
More Free Templates for Crafts
This free tree template is one that can be used for crafts all year round and has been super popular.
Want more weather crafts? Grab our free rainbow template and make some cute rainbow crafts.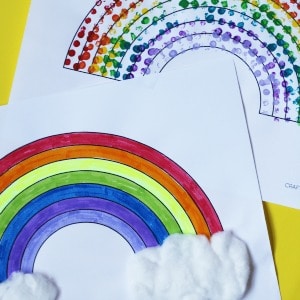 We've also got a free rain cloud template that you can use to make some rain crafts for kids, we love the paper plate one!