Looking for a printable sled template for your Christmas or winter crafts? We've got one for you!
When it's cold outside we're quite happy to stay in and do some easy activities and this free PDF is perfect for inspiring you and your kids to get creative.
RELATED POSTS: Free Templates
What You'll Find on This Page
Sled Template
The winter months can be much harder to keep your kids entertained with the weather being so much colder. While of course you can still go outside it's not exactly the same as mid-summer when you're happy to sit by a pool all day!
With that in mind we've shared a lot of printable templated for winter crafts and this sled template is our newest addition to the collection, ideal for some indoor winter activities.
Get your child excited about the fun things that you can do in winter, sledging is always popular with my kids when it snows as of course is ice skating, building snowmen and grabbing a hot chocolate to keep warm.
You could also use this as a Santa's sleigh template, just add reindeer!
All of our templates are designed to be easy to use and we always share some ideas for how you can use them with your child.
You can get this template at the bottom of this page by subscribing the free Crafts on Sea newsletter, we won't spam you and you can unsubscribe at any time – we like to share printables like this though which are perfect for keeping your kids entertained!
More Winter Themed Templates
This snowflake template is really popular with parents and teachers and we have different sizes of designs that you can print.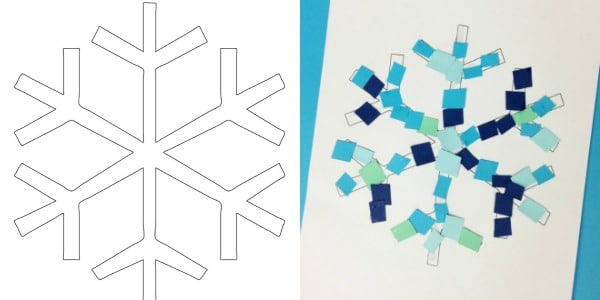 Our snow globe template is great for encouraging a bit of creativity, what will you draw inside it?
Or why not check out our snowman template, I loved this resist art craft that we made with it.
Sled Craft Ideas
Colouring – I love colouring as a simple activity for kids and this printable would make a great sled or sleigh colouring page.
Sleigh Craft – Turn your sled into a sleigh craft that would be perfect for Santa, just draw some presents onto the back of your sled!
Decorate the background – why not print this template onto blue paper and then decorate the background using white paint to make snowflakes. You could dip q-tips (cotton buds) or cotton balls into the paint to make circles for your snow or add snowflake stickers.
Water spray – Use markers and a water spray to make this fun winter art project that's super easy to create.
How To Get Your Free Template
To get your free sled template just subscribe below in the box. We won't send you spam and you can unsubscribe at any time.
Once you've confirmed your email address your template will be delivered to your inbox as a free gift.
Please make sure to check ALL your email folders for the confirmation email and make sure you press the confirm subscription button.