It would't be spring without some lamb and sheep crafts! They're perfect throughout the season as well as for Easter crafts and learning about farm animals too.
We've got loads of easy ideas your kids will love, from a cotton ball sheep using a template that's perfect for preschoolers and toddlers to craft ideas to help older kids practice their scissor skills.
Sheep crafts are perfect for those days when you don't need things to look perfect, after all the sheep's body is a little wobbly with all that wool! We think these sheep craft ideas are perfect for making together and I hope that you will too.
To help you find the sheep craft you're looking for I've listed the crafts we've made first which are the ones that you'll find in the image above. You'll find them in the same order too!
There's also loads more inspiration from some of my favourite bloggers (as well as some more of ours, we've made soooo many) which you can see some pictures of in the other images.
As well as all of the sheep crafts that I'm sharing today you'll also find some inspiration at the end of the post for more Easter and Spring themed crafts for kids with some fun rabbit and chick crafts.
Want to make sure you don't forget any of the activities in this post? Make sure you bookmark this page or an image so you have these ideas to hand when you need them I know my kids always expect me to have 500 fun ideas to hand at any given point!
Sheep Crafts for Kids
This sheep craft for toddlers that we made is perfect for younger kids that don't like finger painting. The white pom poms painting give it a really good texture too.
We made this sheep craft for preschoolers which is an update on a classic idea as you use a paint splat to make your craft.
Our cotton ball sheep uses our free template to make it super quick and easy for you to set up. All you need for this easy sheep craft is the printable, some cotton balls and glue and you can color it if you'd like.
This paper plate sheep twirler from Crafts on Sea is a great way to practice scissor skills.
Inspired by the spring lambs near our home, this sponge printed sheep craft is one that I created with my daughter when she was four.
This cupcake liner sheep that we made could be created with coffee filters too if you'd rather make a bigger version.
This yogurt pot sheep is one that I made with my daughter when she was a preschooler.
Easy Peasy and Fun's sheep corner bookmark is probably one for older kids but I think it would make a great Easter craft and there's a video tutorial for it too.
Sometimes I'm not sure whether to count these as sheep of lamb crafts and this pine cone lamb from Fireflies and Mudpies is definitely the latter of the two, look how fluffy it is!
Create a bubble wrap sheep craft following this tutorial from Crafty Morning.
I love the way that I Heart Crafty Things has made the sheep's legs for this yarn wrapped sheep.
Grab the doilies and make this cute little lamb craft from Easy Peasy and Fun.
Make this cute fingerprint sheep from Crafty Morning.
Grab the paper plates and make this cute sheep craft that rocks from Kids Craft Room.
These clothes pin sheep from Kids Craft Room would make great name place card holders for an Easter lunch!
This paper plate sheep from Housing a Forest is perfect for younger kids to make.
Make a pom pom sheep inspired by Shaun the Sheep from Mum in the Madhouse.
Some materials are a bit of a craft classic and paper tubes have to be very much one of those! Why not try making  this toilet paper roll sheep from Red Ted Art.
This gift bow lamb from Coffee Cups and Crayons is designed to help kids with their fine motor skills.
This dyed wool sheep from I Heart Crafty Things would be perfect if you are looking at baa baa black sheep for learning about nursery rhymes.
Free Printable Sheep Template
If you want to make some sheep crafts with your child but don't fancy buying loads of supplied why not check out our sheep template which has loads of ideas for crafts you can make using it too.
More Spring Animal Crafts
This paper plate rabbit twirler is a great way for kids to practice their scissor skills and is good fun to 'bounce' around the room too.
This easy chick craft is great for younger kids and would be great on the front of an Easter card too.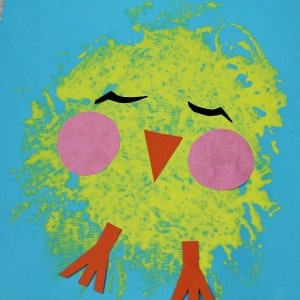 We love this doily rabbit craft it's so cute!