As the weather turns colder we're always after ideas that we can do inside in the warm and these winter tree art ideas for kids are a great place to start. I'm sharing lots of winter tree crafts today that you can make without paintbrushes so have a look round your craft box and see what you can find to make these.
Today's activity uses one of our free templates to help make it that bit quicker for you to set up so that you can concentrate instead on having fun and getting creative.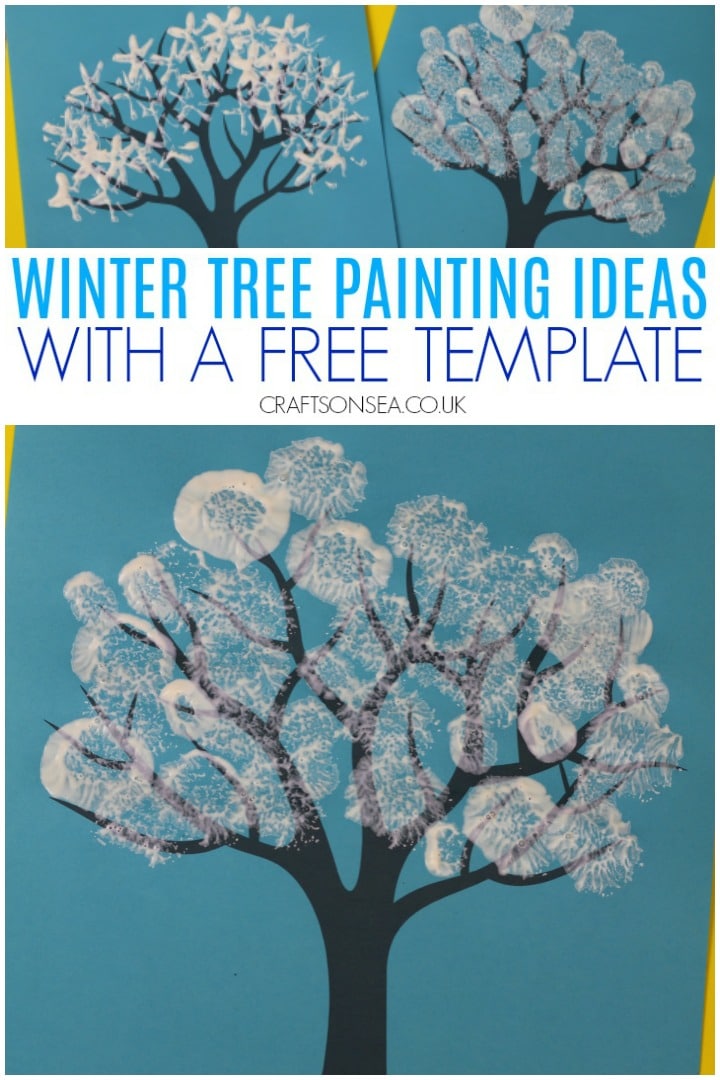 RELATED Easy Snowflake Crafts for Kids
We have included affiliate links to some of the products and resources and as an associate we may earn from qualifying purchases.
Winter Tree Crafts
Winter art projects might not have the gorgeous colours of autumn of the blossom of spring but that doesn't mean that they can't be fun.
I've used white paint for the snow on the trees but you could go for some metallic silver ones or add some snowflake stickers.
This post contains photos of three of our favourite easy winter paintings but we've also included more ideas for ways that you can create winter art.
All of these crafts are made using our bare tree silhouette which you can find a link to below and materials that I found after a rummage through my craft materials and kitchen cupboards so hopefully no matter what materials you have at home or in the classroom you should be able to find something easy and fun that you can do.
The range of ideas also means that there's lots for different ages. Older kids will be able to do something a bit more precise but these crafts are also great for preschoolers, if a bit of painted 'snow' goes a little adrift then surely that's just like the real thing?!
Like this activity? Make sure you don't forget about it by bookmarking this page or pinning an image so that you've got this inspiration to hand when you need it plus keep reading for how we printed these trees plus some great ideas for winter books to share with your children and more winter craft ideas.
What Should I Print My Winter Tree On?
Because you'll  mainly be working with white paint I recommend printing your template onto blue paper or cardstock.
Cardstock can be better if you are likely to use a lot of paint but paper should be fine for these crafts.
A pale or mid blue paper will help to show the outline of the tree trunk more.
If you only have white printer paper then I'd recommend a blue paint to colour with.
Straw Printed Winter Tree Craft
Cut slits into the end of a paper straw and then use this to print your tree.
This is a good craft for children that don't like getting messy as you can use a long straw to keep their hands away from any paint.
Pom Pom Printed Winter Tree
Pom poms are great for painting with, they make a lovely effect and they're great for practising fine motor skills.
You can either hold the pom pom with your fingers or if your child doesn't like potentially getting paint on their hands then you could use a clothes peg to hold the pom pom.
You could also try using different sizes of pom pom for this activity.
Toothbrush Painted Winter Tree
Dip a toothbrush into white paint and use this to create the snow on your tree.
You could also try flicking the paint from the toothbrush onto the tree to make it a bit like snow is falling but this will obviously be messier make sure that you have your table covered!
More Winter Tree Art Ideas:
Q-Tips dip these into white paint and use them to decorate your tree.
Rice create some texture to your art by covering your tree branches with glue and then sprinkling dried rice onto them.
Chalk use chalk or a white pastel crayon to draw snow onto your tree
Finger painting use fingers dipped in white paint to add dots to your artwork..
Paper circles if your hole punch has been getting a lot of use with white paper now is the time to empty it! Pop some glue along the branches and at the base of your tree, scatter your paper on top and then give the page a gentle shake to cover as much of the glue as you can.
Bleeding tissue we've made a bleeding tissue tree craft before for fall, to change it up for winter follow the same tutorial using white paper or cardstock but use blues, purples and greens instead for your tissue paper.
Scrunched tissue roll white tissue paper into small balls and then glue them onto the branches of your tree.
Free Tree Template
Our free tree template makes a perfect winter tree silhouette and it's one that we've used for tree crafts for all different seasons.  You can make as many copies as you like of this printable.
Winter Books for Kids
I'm always happy to take the option to snuggle up with my kids and share a story, preferably with a hot chocolate! I love sharing seasonal stories with my kids, which of these would your children enjoy?
More Winter Crafts for Kids
Fancy another winter tree craft? This paper plate winter tree craft should fit the bill!
These paper plate snowflakes are great for decorating (and using up any excess craft supplies!)
This northern lights art project is perfect for winter and as one of the main things to do in it is scribble with pens it's suitable for younger kids to help make too!