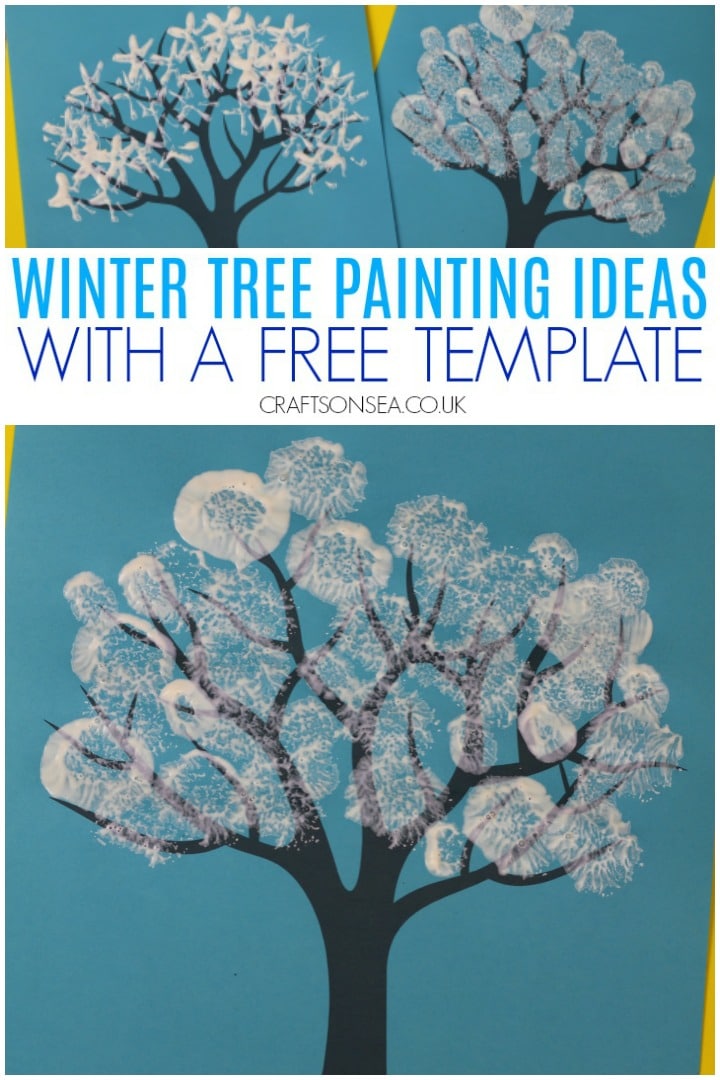 As the weather turns colder we're always after ideas that we can do inside in the warm and these winter tree painting ideas for kids are a great place to start, I'm sharing three ideas today but I'd love to hear what ideas you and your kids come up with for making some easy winter art! Today's activity uses one of our free templates to help make it that bit quicker for you to set up so that you can concentrate instead on having fun and getting creative.
Winter Tree Painting Ideas for Kids
I have included links to affiliate programmes in this post if you click on these and buy I may earn a small commission. Affiliate links are marked with an asterisk.
Winter crafts might not have the gorgeous colours of autumn of the blossom of spring but that doesn't mean that they can't be fun. I've used white paint for the snow on the trees but you could go for some metallic silver ones or add some snowflake stickers.
For all these crafts you will need white paint, a reusable plate to put your paint on (as it makes it a lot easier to paint with and our free tree trunk template – download your free tree template here. Fancy something without a template? Why not try our paper plate winter tree craft instead!
Like this activity? Make sure you don't forget about it by bookmarking this page or pinning an image so that you've got this inspiration to hand when you need it plus keep reading for how we printed these trees plus some great ideas for winter books to share with your children and more winter craft ideas.
Straw Printed Winter Tree Craft
Cut slits into the end of a paper straw and then use this to print your tree. This is a good craft for children that don't like getting messy as you can use a long straw to keep their hands away from any paint.
Pom Pom Printed Winter Tree
Pom poms are great for painting with, they make a lovely effect and they're great for practising fine motor skills. You can either hold the pom pom with your fingers or if your child doesn't like potentially getting paint on their hands then you could use a clothes peg to hold the pom pom. You could also try using different sizes of pom pom for this activity.
Toothbrush Painted Winter Tree
Dip a toothbrush into white paint and use this to create the snow on your tree. You could also try flicking the paint from the toothbrush onto the tree to make it a bit like snow is falling but this will obviously be messier – make sure that you have your table covered!
Winter Books for Kids
I'm always happy to take the option to snuggle up with my kids and share a story, preferably with a hot chocolate! I love sharing seasonal stories with my kids, which of these would your children enjoy?
More Winter Crafts for Kids
This scrunched paper snowman is easy to make and tissue paper is a lovely sensory material to work with.

Fancy another winter tree craft? This paper plate winter tree craft should fit the bill!
Finally these paper plate snowflakes are great for decorating (and using up any excess craft supplies!)