I think that seahorses are animals that everyone has a bit of a soft spot for (I know I do) and these seahorse crafts are a great way to share your love for them with the kids in your life. I love sharing sea crafts for kids and today I'm sharing loads of fun ideas with lots of different levels of expertise so you'll find seahorse crafts for preschool as well as ones that are suitable for much older kids and if I get a spare ten minutes to myself I might do some myself too!
Seahorse Crafts For Kids
All of the seahorse crafts that I'm sharing today appear in the same order as you'll see them in the image below. Want some more ideas for ocean crafts for kids? Check out the list at the end of this post for some of our favourites and most popular!
Like these crafts? Make sure that you bookmark this page or pin an image for later so that you have all this cool inspiration to hand when you need it.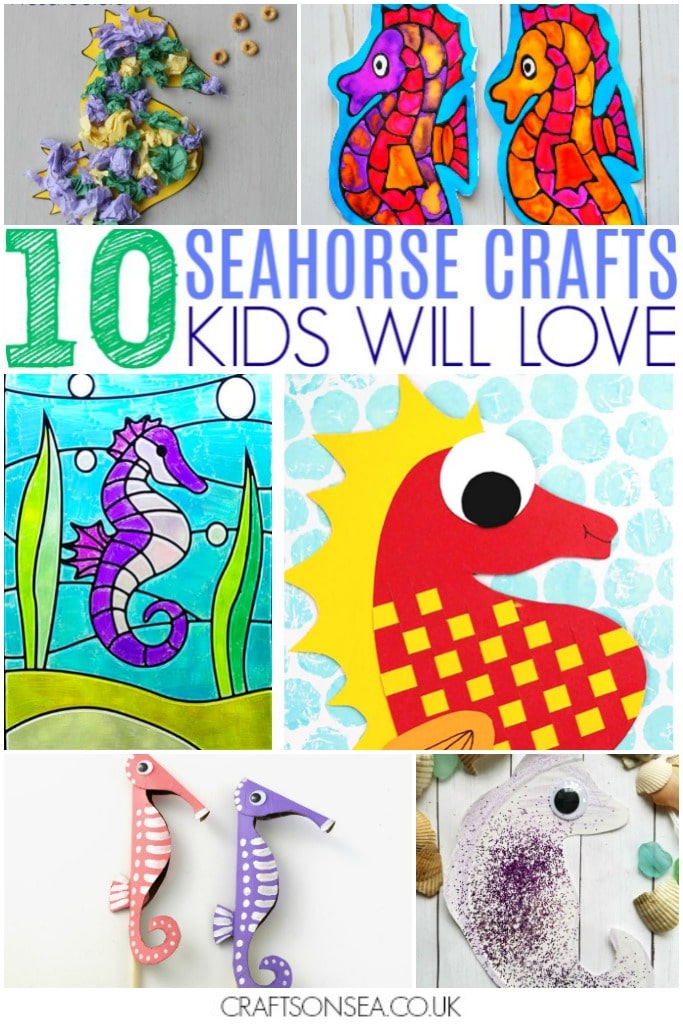 Tissue paper seahorse craft from Crafts on Sea, my daughter made this while she was in preschool and I think it's absolutely adoreable!
Black glue seahorse from I Heart Crafty Things, this is perfect for older kids or you could do the outline for younger ones while they paint the insides
Seahorse suncatcher – perfect for crafting on those long summer days this stained glass suncatcher from Easy Peasy and Fun will look great with the sunlight shining through it.
Paper weaving seahorse – use the free printable from Kids Craft Room to make this sweet seahorse craft
Seahorse puppets from The Craft Train – who knew toilet rolls could become so pretty?!
Paper plate seahorse – paper plate crafts are always a classic as who doesn't have a packet of plates lurking somewhere? This idea from Powerful Mothering looks great.
Tissue paper seahorse craft – use our free seahorse template and bleeding tissue paper to make this super pretty craft.
Seahorse colouring page from Crafts on Sea, this colouring page is detailed enough for older kids and adults too, while it's too tricky for the younger ones to do the detail they might enjoy painting or colouring over the outline.
Felt seahorses – these plushies from Easy Peasy and Fun are super sweet and the easy tutorial make it perfect for kids learning to sew.
Seahorse bookmark from Red Ted Art, perfect for all avid readers
Letter S Seahorse from No Time For Flashcards letter of the week crafts
More Ocean Crafts for Kids
This paper plate sea collage is super easy to make and perfect for younger kids.
These sea story stones are great for encouraging creative writing or verbal story telling or just as a bit of inspiration if you're into painted rock crafts.
Finally this round up of 35 under the sea crafts for kids is super popular and full of awesome ideas!