With two different designs this simple whale template is perfect for getting creative with your kids.
We've got loads of easy whale craft ideas to help inspire you to use this printable, from it's most basic use as a coloring sheet that's perfect when you need something easy and quick to set up to puppets and finding ways to use up scrap paper.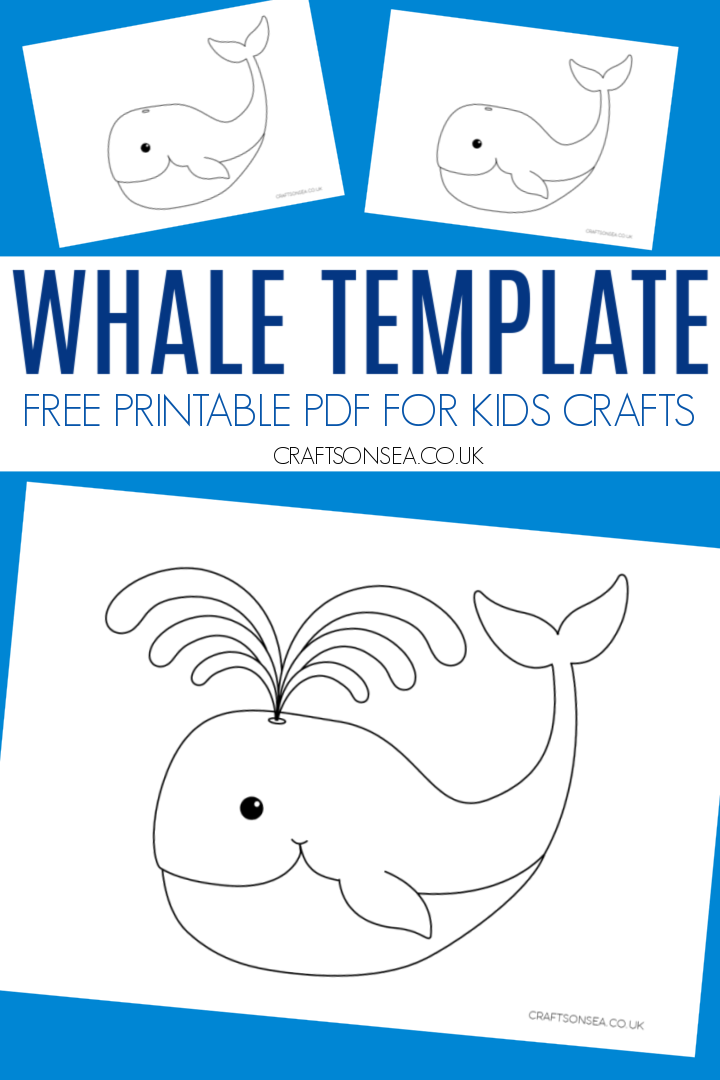 RELATED POSTS – Free Templates for Kids Crafts
What You'll Find on This Page
Free Whale Template
Whales are such a great animal for kids activities as there's so many topics that they fit into – from ocean animals and learning about the environment to stories like Jonah and the Whale and The Snail and The Whale.
There are two different designs that you'll find in this PDF, one with the whale having water spurting out of it's blowhole and another design without the water. Choose the one that works best for the activity you want and when you print it you can just opt to print that page.
Of course you can also print as many copies as you like, perfect if you're in a classroom or preschool. I think these whales would make a great decoration too, cut out and stuck on a wall or bulletin board.
You can get your free printable whale template at the bottom of this page by subscribing the free Crafts on Sea newsletter, we won't spam you and you can unsubscribe at any time – we do send lots of printables like this though which are perfect for keeping your kids entertained!
More Ocean Themed Templates
Our printable templates are perfect for easy kids crafts. Why not check out these printables too which would be perfect for an ocean theme?
Whale Craft Ideas
Coloring
Grab the crayons, markers or coloring pencils for a super simple and easy to set up activity.
Paper bag puppet
Color in your whale craft template and then cut it out using scissors. Grab some glue and stick it on to a paper bag (blue would be great, but anything is fine really) and then you can use it as a simple DIY puppet. Make sure that the hole in the bag is at the bottom so that you can put your hand in it.
Make a whale stencil
You could totally use these templates to make a stencil for some simple whale art for kids.
Cut out the shape of the whale from the inside so that the outside shape is intact. For this activity I'd probably recommend printing on cardstock rather than printer paper if you're likely to be using a lot of paint.
I'd generally recommend that this is something for adults to do unless it's a much older kid and you are happy for them to use scissors in this way.
Place the whale template onto some paper and then paint over the stencil, removing it when you are done. You can use a paintbrush for painting or maybe try finger painting or foil dipped in pint.
Torn paper
Cover your whale in glue and then color it in using pieces of torn paper. Scrap paper is great for this and you could also try construction paper, colored paper or look through old magazines or comics for suitable colors.
Add some water
While one of the pdf files shows water shooting out of the whale's blowhole the other one doesn't so why not add some of your own? You could glue on blue pipe cleaners, cut shapes out of blue craft paper or use some blue colored glue for a raised effect.
More Whale Crafts for Kids
Have you read The Snail and The Whale? It's one of our favourites and this paper plate craft with a movable whale is perfect to make alongside it.
This orca paper plate craft is an easy craft I made with my son when he was in preschool. We used pint but you could use a black marker instead if you prefer.
You'll find lots more whale and ocean ideas in our round up of The Snail and The Whale activities including an easy ocean sensory bin.
How To Get Your Whale Template
To get your free whale template just subscribe below in the box. We won't send you spam and you can unsubscribe at any time.
Once you've confirmed your email address your template will be delivered to your inbox as a free gift.
Please make sure to check ALL your email folders for the confirmation email and make sure you press the confirm subscription button.