Whether it's for autumn, Halloween or a farm topic easy scarecrow crafts great fun to share with kids. It doesn't matter if they look less than perfect (that's the point of a scarecrow, right?!) and there's lots of scarecrow songs and scarecrow books for kids that you can share too.
I have included links to affiliate programmes in this post if you click on these and buy I may earn a small commission. Affiliate links in the text are marked with an asterisk.
Scarecrow Crafts
Over time I've updated this list of preschool scarecrow crafts to include some more resources that I hope you will find helpful, so you'll now find some scarecrow themed books and an extra craft included too with our free printable scarecrow basket that's great for adding a little snack in for your child!
Scarecrow Books for Preschoolers
I love any excuse too share a story with my kids so if I link a book up with an activity then I figure that's a good thing! The first of these suggestions is one that I've read with my kids and that we all enjoyed, the other two are ones I want to check out. Got a suggestion for a scarecrow book that preschoolers would like? I'd love to hear abut it!
The Scarecrow's Wedding* by Julia Donaldson
The Scarecrow* by Beth Ferry
The Little Scarecrow Boy* by by Margaret Wise Brown and David Diaz
Free Scarecrow Template
As well as the crafts I've listed below you might like to check out our free scarecrow template which is perfect for creating easy to set up activities with your child. I've shared a few ideas for using it but of course it's also perfect as a scarecrow colouring page too.
Scarecrow Crafts for Preschool
All of the scarecrow crafts for preschoolers that I'm sharing today appear in the same order that they appear in the collage below, there's more ideas than I've shared pictures for though so do take a look through the whole list for some more inspiration.
Want to remember all these fun ideas? Make sure that you bookmark this page or pin an image so that you'll have this to hand when you need it. Want more ideas? You'll find inspiration for farming and autumn crafts at the end of this post.
This book based scarecrow paper bag craft makes a great puppet, you can read the instructions for it or follow the video tutorial I've linked to this page if you'd prefer to see it in action.
Toddler Approved shares a simple cardboard scarecrow craft.
I love the googly eyes in this shape scarecrow craft.
We love keepsake crafts and this handprint scarecrow from Crafty Morning is a great idea.
Non-Toy Gifts shares some paper roll scarecrows
Tearing paper is a great craft for preschoolers so this torn paper scarecrow is a great idea for a craft.
Grab our free printable scarecrow craft that kids can colour and make.
Make this paper plate scarecrow craft using our free template.
This easy paper plate scarecrow is from No Time for Flashcards
Scarecrow potato printing from Frogs and Snails and Puppy Dog Tails
Foam is a great way for preschoolers to practice cutting and this foam scarecrow is super cute (to make this with preschoolers or young kids I'd totally recommend swapping the glue used in the post for PVA glue though)
Scarecrow wooden spoon puppet from Our Little House In The Country
More Crafts for Kids:
This apple tree activity is great for helping to support fine motor skills
These autumn leaf sun catchers look fantastic up in a window.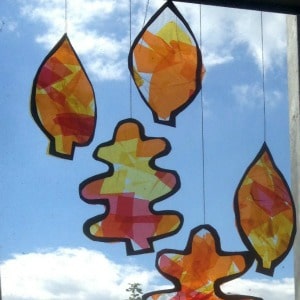 Finally this collection of farm animal crafts is perfect for preschoolers.