You're going to love how easy these May crafts for toddlers and preschoolers are with loads of tried and tested spring crafts to last you through the month.
I've selected four of the most popular themes for May to inspire you to have fun with your child and for each theme you'll find lots of easy craft ideas that you can create together. Grab your craft supplies and lets get started!

May Crafts for Toddlers and Preschoolers
For May I've chosen four themes which are popular both in preschools and at home with parents Mother's Day, camping, the ocean and gardens.
May is a time when lots of families make the most of better weather with holidays and day trips. Days out to the ocean are popular and people are starting to camp which is why I've chosen both of those.
Mother's Day takes place in May and it's a great time to get out in the garden too looking at things that grow amongst the bugs and butterflies!
Obviously as with all activities with toddlers and preschoolers you will need to supervise your child throughout especially if they are using small items.
For each topic you'll find a collage of the crafts and the links below are listed in the order you'll find them in the collage to help make this easier to navigate.
Free Printables For May Themed Activities
Mother's Day Crafts
Use cupcake liners and buttons to make these cute Mothers Day cards from I Heart Crafty Things.
Messy Little Monster has a really cute butterfly printable with a poem that you can use to make a footprint keepsake for Mothers Day.
Grab the crayons to create this printed towel from Toddler Approved to give to mom.
This lego printed Mothers Day card from Toddler Approved is a great idea, especially with a photo included.
Make this gorgeous handprint bowl from salt dough or clay following this tutorial from Messy Little Monster.
Best Toys 4 Toddlers shares how kids can make a sweet no-sew purse to gift on Mothers Day.
Camping Crafts
This foil painted campfire craft is perfect for making with toddlers and preschoolers as you can shape the foil to be the right size for their hands to hold.
This tree craft is a great way for kids to connect with nature and you can use one of our free printables to make it too.
This toy teepee is obviously a bit complicated for younger kids to make, however it's one that my toddler helped decorate and we had great fun playing with it afterwards too.
Paper plate crafts are always a great option as they're a material that so many of us have at home. This campfire craft uses a paint splat technique to make the flames.
This DIY s'mores craft from Pre-K Pages is perfect for some pretend play with your child too.
Use our free printable to make these cute paper lanterns, perfect for playing that you're out in the dark!
Ocean Crafts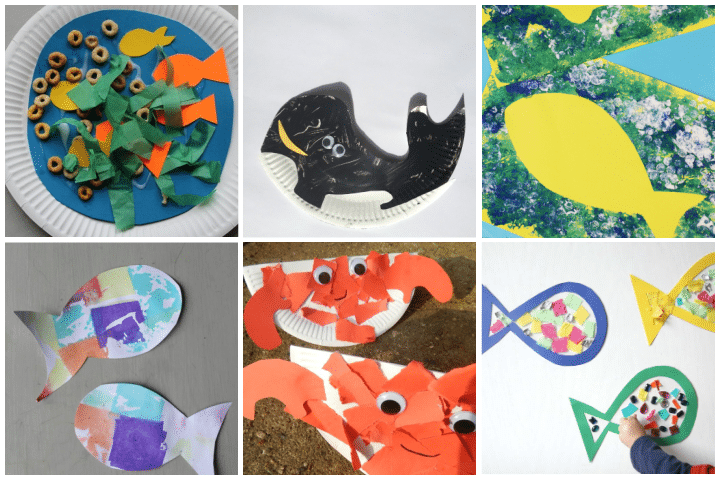 My daughter loved making this paper plate sea collage and it was a really nice activity to create with her after she'd had a busy morning at preschool.
This paper plate orca is one that I made with my son and was a good excuse for us to find out a little bit about these animals too.
The ocean is of course full of fish so grab our fish template and try out this resist art fish craft.
This tissue paper fish craft was really popular in our house and uses a fun painting technique that my toddler hadn't tried before.
Make these paper plate crabs using torn construction paper which can help support your child's fine motor skills and is a fun change from using scissors.
I love this fun kid made sticky fish craft from Toddler Approved.
Garden Crafts
I love the use of different textures in these paper plate gardens shared by Happy Hooligans.
We used paper, natural materials and contact paper to create this garden sticky wall which was a big hit!
I love simple art projects and these handprint tulips from Fun Handprint Art certainly fit the bill, they'd be a great way to celebrate the warmer weather while making a cute keepsake too.
The Craft Train shares some pretty garden nature art that you can make outdoors.
Follow Messy Little Monster's tutorial and make some pour painted flower pots to cheer up your outside space.
Buggy and Buddy have some really lovely ideas for spring crafts and this bookmark with pressed flowers and leaves is one that I tried out last year with my own kids too.