Looking for  Fathers Day crafts preschoolers can make with some ideas for gifts and DIY cards too? You're in the right place as we've got over 30 easy ideas you'll love to make and dads will love to receive! I know that handmade gifts from kids are often the most treasured and these cute ideas are ones any dad would want to keep forever.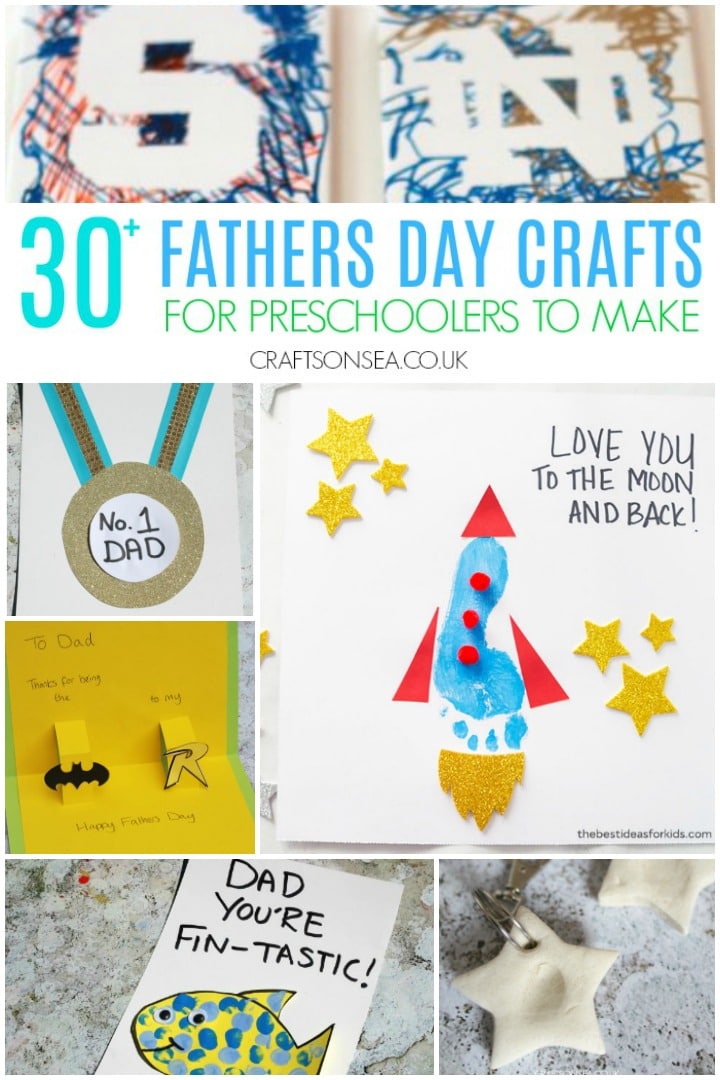 Fathers Day Crafts Preschoolers Can Make
There's nothing quite like receiving a handmade gift or card. As a parent you know that your child will have put a lot of effort in to them and they make fantastic keepsakes, it lovely over the years looking back at what you child has made.
Because there are over 30 ideas for Fathers Day gifts from kids listed here today I've split it into two categories to make it a bit easier to navigate, Fathers Day cards preschoolers can make and Fathers Day gifts preschoolers can make.
This is an older post but I've updated it over the years to add new Fathers Day crafts and gift ideas as we've shared them or when I've found something new that I just had to share.
In both cases the activities are listed in the same order that they are shown in the collage above them, there's obviously lots more ideas than just in those collages so do take a look through the list to find some new ideas to try this year!
Want to make sure you don't forget any of these great ideas? Make sure that you bookmark this page or pin an image for later.
Fathers Day Cards Preschoolers Can Make
Dad you rock card from A Dab of Glue Will Do
Fish Fathers Day card from Crafts on Sea – you can watch the video too!
Fathers Day watermelon card from Frugal Mom Eh
Popcorn card from I Heart Arts and Crafts
Footprint rocket from The Best Ideas For Kids
Medal Fathers Day card from Crafts on Sea
Baseball Fathers Day card from the Soccer Mom
Pop up Batman Fathers Day card from Crafts on Sea
Fan Fathers Day Card from Crafts on Sea
Washi tape card from The Gingerbread House
Hooked on Daddy card from The Best Ideas For Kids
Colour in BB8 card from Simple Everyday Mom
Ice lolly card from Homeschool Preschool
Fathers Day shirt card from Easy Peasy and Fun
Fathers Day thumbs up card from Easy Peasy and Fun
Rocket card from Non Toy Gifts
Handprint dinosaur card from Crafty Morning
Fathers Day Gifts Preschoolers Can Make
Fingerprint glass magnets from Rhythms of Play
Fathers Day photo frame from I Heart Crafty Things
Saltdough fingerprint keyrings from Crafts on Sea
Craft stick bookmarks from Red Ted Art
Personalised coasters from Playground Parkbench
Personalised necktie from Kids Craft Room
Fathers Day mug from Crafts on Sea
Fathers Day photo gift from Crafts on Sea
Personalised candle holder from Rhythms of Play
Photo remote caddy from Teach Me Mommy
Tie shaped bookmark from Buggy and Buddy
I Love my Daddy printable book from Buggy and Buddy
Saltdough handprint bowl from Messy Little Monster
Fathers Day portrait printable from Totschooling
Saltdough picture frame from The Soccer Mom
Coloured golf balls from Schooltime Snippets