Looking to make some Halloween or Day of The Dead crafts this fall? We've got you covered with this free printable skull template with two different designs that you can download.
Whether you want to design sugar skulls, make a spooky mask or try out some easy crafts at home or in a classroom these paper skull templates are the perfect way to encourage creativity and imagination in your kids while they enjoy all the excitement of this time of year.
What You'll Find on This Page
Skull Template
My kids love getting creative at this time of year and I know that for me it's always good to have as many ideas as possible up my sleeve to help keep them busy and happy.
This template is a great one for Halloween but you could also use it for making something pirate related and of course for the Day of The Dead (Día de Muertos), maybe as an excuse to chill out and watch some Coco too?! My kids adore that film and so do I.
In addition to the PDF templates themselves you'll find lots of ideas for ways they could be used as well as some more inspiration for simple Halloween crafts.
Free Halloween Templates
We have loads of printables for kids because they're such a great way to help parents and teachers set up activities easily and quickly. Plus free is always a good thing!
You can check out all of our free templates here but if you're looking for Halloween themed ones then these are some of our favourites:
Skull Craft Ideas
Design a Sugar Skull
Look through some images of Día de los Muertos with your child to learn about this celebration and get inspiration for creating your own sugar skull design. I like this post on BBC Newsround sharing photos from the festival and this one from Kids National Geographic both of which give simple kid-friendly explanations of the festival too.
Stickers
I think stickers are often downplayed when we talk about activities and crafts with kids, but they're a great way to decorate and they're good for supporting fine motor skills too.
Ideally you'll find flowers and hearts to decorate your skull with, drawing influence from sugar skull designs and thinking about how you could make each side symmetrical. However if your child wants theirs covered in ponies or dinosaurs I won't judge as I've definitely been there too!
Finger Painting
Grab your printable, some paint and a plate or tray and you're ready to get started decorating your skull with some easy finger painting. Make sure you have a damp cloth or wipe close by to help clean up any messy hands when you're finished.
Tissue Paper
There are two different ways to use tissue paper to decorate depending on what you fancy doing. You can simply glue down squares of tissue paper onto your template or use larger pieces and scrunch them into balls before sticking them down.
Torn Paper
Torn paper would work really well for a Halloween themed skull craft, just be sure to print it out on colored paper rather than white, you want it to still be pale enough though that you can see the outline of the skull so blue, green or purple could be a good idea.
Tear a sheet of white paper into pieces and glue it onto your skull shape to color it in.
Make a Mask
Print your template out onto white cardstock before cutting it out. Obviously it's going to be a job for grown ups to cut out any eye holes for the mask on this and you may choose to use the template without eyes if you want to get them closer to where your child's actual eyes are (stating the obvious I know but don't put scissors near faces or eyes, ever)
You can then selotape a craft stick on the back of your mask so that it can be held up easily.
More Halloween Crafts for Kids
I love this easy ghost craft and it's one of our most popular that I often get tagged in on Instagram so parents can show me the ones their kids have made. It's super simple and pretty cute too!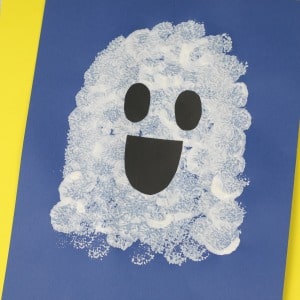 This pumpkin suncatcher is a craft I made with my son when he was a preschooler. Not only is a great way to look at color mixing together but it makes great Halloween decor too and stayed up in his window for ages, always a sign of success.
How To Get Your Free Printable Skull Template
To get your free skull templates just subscribe below in the box. We won't send you spam and you can unsubscribe at any time.
Once you've confirmed your email address your templates will be delivered to your inbox as a free gift.
Please make sure to check ALL your email folders for the confirmation email and make sure you press the confirm subscription button.