Today I'm sharing some easy rain crafts for kids made using our free rain cloud template for kids as well as some other ideas for how you could use this template to make some fun rain crafts.
Weather crafts and activities are a favourite all year round with kids, after all weather is one thing that's constant every season!
We've shared a lot of weather crafts over the years and I'll be sharing some of our favourites with you as well as some rain themed books for kids that we think look fantastic.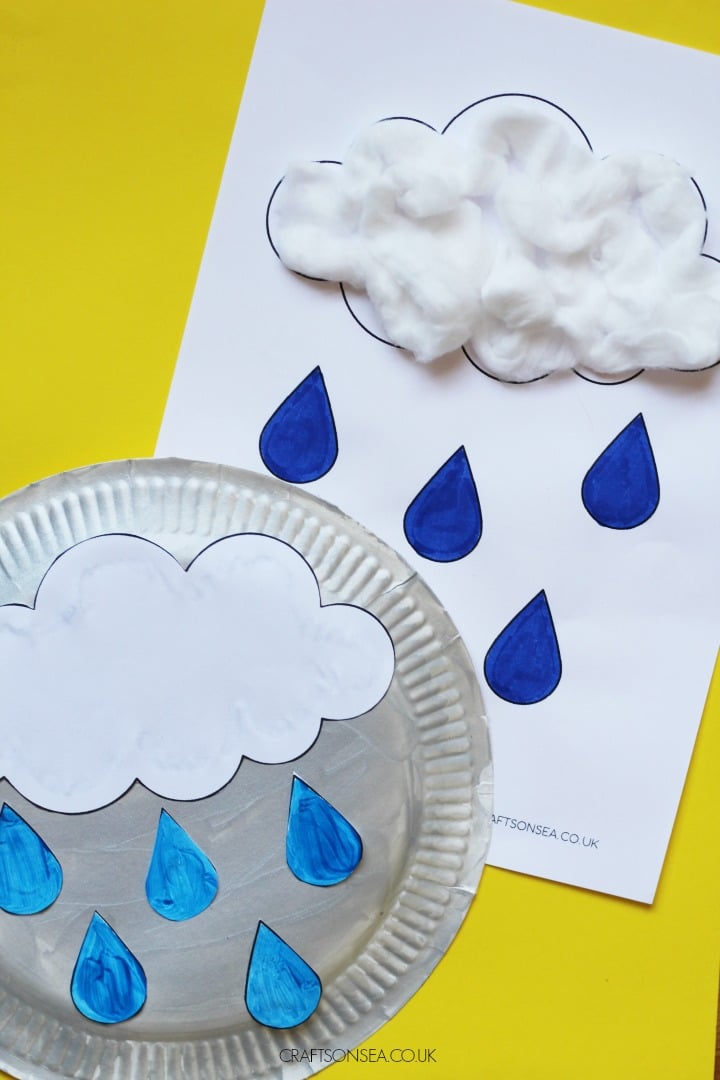 We have included affiliate links to some of the products and resources and as an associate we may earn from qualifying purchases.
What You'll Find on This Page
Rain Craft Ideas
Whether you need some simple rainy day crafts or are doing a weather theme in your kindergarten or classroom these rain crafts are an easy way to brighten up a dull day and using our free template means that if you are doing these activities with a group then it's easier to prep.
There are lots of fun ways to use our PDF and these also make fun spring crafts as well, after all I know where I live the weather is certainly anything but predictable at that time of year!
I've shared lots of ideas so that you can choose what's best for your child's age and interests so you can pick some simple foil painting that would be good for toddlers or preschoolers or go with something requiring more scissor skills or fine motor skills which would be better for slightly older kids.
Free Rain Cloud Template
All the rain crafts I'm sharing today are made using our free rain cloud template, you can print as many copies as you like so you can try out as many ideas as you and your child can come up with!
Like these ideas? Make sure that you bookmark this page or pin an image so that you've got it to hand when you need it.
Rain Themed Books for Kids
Reading is always a good thing! We love sharing stories together and these rain themed books would be perfect to read together after making these rain crafts.
Paper Plate Rain Craft
Paper plate crafts can be great if you're working with a group of kids but equally they're fun to do at home too, my kids have always loved them!
To make this paper plate rain craft I've painted a paper plate with grey paint and then painted the raindrops on the printable blue, you could colour these in instead if you prefer or change up the colours so you have a grey cloud, dark blue paper plate and light blue raindrops, go with whatever colour combination your child likes!
Once the paint on your paper plate is dry simply cut out the rain cloud and rain drops and glue these on to your paper plate.
Foil Painted Rain Craft
I found some old kitchen foil in the back of one of our cupboards the other day, it's not something we use very much so the leftover bits rather suited themselves to crafting.
It's a good material as if your child isn't super keen on getting their fingers covered in paint then you can make sure that you scrunch the foil so there's a longer bit of it for them to hold on to.
Place some blue and grey kids paints onto a reusable plate and then dip your scrunched foil into the paint, you can now use it to dab on your rain cloud template to paint your cloud and rain drops.
Cotton Wool Rain Craft
This is another craft made with leftovers that I found at the back of the cupboard! I don't really use cotton wool but I found some hidden in the back of a draw and just like with our easy rain craft it's a great material for making soft, fluffy clouds with.
Colour in the rain drops using felt tip pens or crayons and then cover the cloud in glue, I've used PVA but a glue stick would probably work as well, we just tend not to use them as they inevitably get the lids left off them and go hard after a couple of days!
You can just pop your cotton balls straight on to the cloud but I've unravelled mine first which also helps your materials last a bit longer.
More Ideas for Rain Crafts
You could paint the clouds and rain drops using water and tissue paper using the same technique we used for our Rainbow Fish craft.
After painting or colouring the clouds and raindrops you could cut them out and attach the raindrops to the cloud using string so that they hang down.
Use a cotton swab / cotton bud dibbed in paint to color in your clouds and rain. If you use more than one color this is a good one to create different shades.
Why not add some lightning? To make this into a thunderstorm craft you could cut out a lightning bolt shape from yellow paper or aluminium foil and glue it on.
Paint on some rain using bubble wrap. You could dab a bit of bubble wrap covered in paint around your picture or use it to cover a piece of paper and then cut out your rain cloud and glue this on top.
More Weather Crafts for Kids
Perfect for making alongside your rain crafts and with a free template too, make sure you try out our easy rainbow crafts for kids.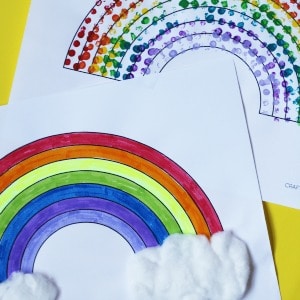 Have you tried making rain art? Rain paintin is really fun and makes a perfect umbrella craft to create alongside your rain cloud craft.
This handprint sun craft is super cute and was a joint project between both my kids.