Happy Halloween! My kids are always ready to get a start on spooky season with some Halloween activities and this free printable haunted house template makes it easy and quick for you to set up some crafts at home or in a classroom or preschool.
There are two different designs that you can grab and as usual I'll be sharing some ideas for ways that you can use them to help share the Halloween fun.
What You'll Find on This Page
Free Haunted House Template
There are two different design available in the PDF pack which you can download. The first is a more basic outline with simple shapes for the windows that would be ideal for younger kids or for crafts where you want to add your own creative touch.
The second design is more detailed complete with a moon, bat and more details to the doors and windows. You can print either or both templates and as many copies as you like, making it perfect if you are doing Halloween activities with a group.
Free Halloween Templates
We've shared lots of free templates for kids crafts as they're such a great way to help you plan activities with you child on a budget or at quick notice. Halloween has to be one of our favorite seasons so if that's the same for your kids then why not check out some more of printables, each of which also comes with some simple craft ideas.
3D Haunted House
This spooky house template has been so popular that we decided to turn it into a 3D haunted house craft too!
The printable is free to download and you can pick from a black and white version that you can color in or one that's been colored in already.
Haunted House Craft Ideas
Coloring – Coloring is always a great activity both for kids and parents, it's easy to set up and everyone enjoys it, I sometimes join in coloring with my kids too! All you need to do is print out the template you want onto white printer paper (or a light colored paper), grab your markers, coloring pencils or crayons and you're ready to get started.
Add Some People – Using the template with larger door and window shapes why not add some people to your haunted house? You could draw in people and add some ghosts or mummies or why not cut out photos, pictures from magazines or some stickers or Halloween characters to add?
Resist Art Painting – I love resist art painting and it's one that we've used before for a few crafts including our haunted house craft that uses this template. I've shared a video to this page of our resist art snowman if you'd like to see the basics of how to do this activity in action.
Mosaic – Grab the scissors, glue and any scrap paper to make a mosaic on your haunted house template. You could use either design for this with different color combinations like purple, grey and black paper looking fantastic on the house with it's spooky towers and orange or yellow if you want to decorate the moon behind it.
For both mosaics and resist art painting I'd recommend printing this resource onto cardstock if possible as it's less likely to get too wet and potentially tear than using normal printer paper.
More Halloween Crafts for Kids
I love this super cute and easy ghost craft and it's one that's popular with parents every year as it's so simple to make.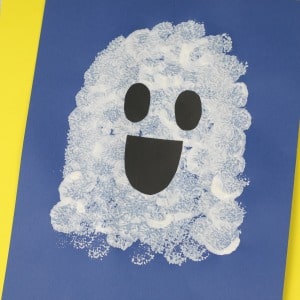 This pumpkin suncatcher is one that I made with my son when he was a preschooler, it was a massive hit with him that stayed displayed in our window for ages and it's a great way to teach your kids about color mixing too.
This paper bag witch craft is definitely more cute than scary! Making it is a great way to practice using scissors or if your child isn't ready for that yet they can stick on the green hair and her black hat. You can also use it as a puppet afterwards, perfect for acting out those spooky stories.
How To Get Your Free Printable Haunted House Template
To get your free haunted house templates just subscribe below in the box. We won't send you spam and you can unsubscribe at any time.
Once you've confirmed your email address your template will be delivered to your inbox as a free gift.
Please make sure to check ALL your email folders for the confirmation email and make sure you press the confirm subscription button.