This haunted house craft is perfect for spooky season, it's easy to make using our free printable haunted house template and is a fun way to introduce your kids to using resist art.
What You'll Find on This Page
Haunted House Craft
With Halloween getting closer my kids are getting much more excited about creating some themed arts and crafts to display.
Kids will need a bit of a hand with this activity, especially if you choose to cut the windows out of the house, but coloring around the house should be fine for most ages.
Free Haunted House Template
You are of course free to design your own haunted house but if you don't fancy that then grab our free printable haunted house template. There are two different designs of template and for this craft you'll want to use the most basic one. (The other template has a moon and bat too.)
As well as the printable itself you'll also find more ideas for ways to use the template for kids crafts.
Materials Needed
Haunted House Template
Black Cardstock
Paint pens / pastels / chalks
Scissors
Washi Tape
How To Make Your Haunted House Craft
Print out your template and cut the shape of the haunted house out. If you like you can also cut out window shapes as I have here but obviously this is a bit trickier to do and should be done by a grown up.
Take your washi tape and make it into small loops. the reason why I use washi tape for resist art crafts such as this one rather than traditional sellotape is that washi tape does not stick quite as well – perfect in this case as you don't wat it to rip the paper when you remove it later. Obviously you won't want to use glue for this as you want to be able to remove the template.
I often tap the tape onto my hand or trousers as well just to remove a little bit of the stickiness to make sure that my paper doesn't tear later.
Put your washi tape loops onto the back of your haunted house template and then stick it onto your black cardstock in the middle of the paper.
Using your paint pens or pastels color all around the house and inside the window shapes if you have done these. You want to make sure that all the edges of the template are covered.
I used paint sticks that advertised themselves as being good for coloring on black paper or cardstock but they weren't as vibrant as I had hoped for so I won't link to them! You can always try out your pens or pastels on a bit of scrap black cardstock or paper before you start to check how bright the colors are.
Once you are finished carefully remove your haunted house template to reveal the black shape on the cardstock.
More Halloween Crafts for Kids
This easy ghost craft is always one of our most popular easy crafts for Halloween. It's perfect for younger kids to make too.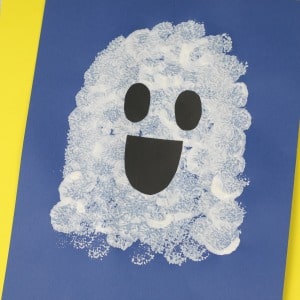 This witch's cauldron craft uses another of our free templates and bubble painting to create the effect of the witch's potion bubbling over. This is another fun way for kids to paint without using a paintbrush.
This pumpkin suncatcher is a fun Halloween craft that was made by my son when he was a preschooler. It's great for opening up discussions about color mixing as you can use red and yellow to make orange plus it looks super cute hung up in a window.