This cute Easter chick template is perfect for Easter activities with your child or a farm animal theme.
There are two different designs that you can get for free and we've got loads of ideas for how you can decorate your chick too.
RELATED POSTS: Free Templates for Kids Crafts
Baby animals are super cute and I think chick's might be the sweetest of them all?
My kids love to see them and when we've visited farms before the baby chicks are always something that have a crowd around them as people want to see them and sometimes hold them too.
Chick crafts and activities are perfect for spring time with the themes of new life and they're one that normally come up with farm crafts and activities too – I like chickens but chick crafts have always been a much easier sell to my kids than those!
Chicks are also perfect for Easter activities and make a nice accompaniment to any Easter bunny crafts that you're making.
There are two separate pages to this free template, one that shows the chick's face and one that doesn't so that you can choose the one that's better suited to the project you want to make.
Just choose to print the one that you want, although of course you can print them both out too!
You can also print as many copies of this free printable template as you like so it's perfect for classrooms, preschools and kindergartens where you don't want to be drawing thirty copies of the same thing.
What You'll Find on This Page
Chick Craft Ideas
Need some easy ideas for decorating your paper chick? Why not try out one of these.
Coloring – Coloring is always the easiest activity to set up for kids all you need to do is grab markers or crayons and you're ready to go. The chick with it's beak and eye's drawn on already would make a perfect chick coloring sheet although of course you could use the blank version the PDF too, that way you can design your own features.
Scrunched paper – Tearing and scrunching tissue paper is a really good activity for kids and if I'm honest I find it pretty relaxing too! Tearing is a good idea too if you want to avoid the scissors with your child. Glue your balls of tissue paper all over your chick, you could use a different color for the wing shapes if you like.
Tissue Paper Squares – Cut squares out of colored tissue paper and glue them all over your chicks body.
Sponge Painting – You could use a sponge dipped in paint to color in your chick, this is similar to the instructions you'll find below for our easy chick craft but with a little more precision if you use a bath sponge cut into smaller pieces.
Collage – Collages are always a great way to use up all those spare bits and bobs lurking at the bottom of your craft supplies and they're a really fun way to encourage some creativity too. Why not grab the glue and add some feathers to your chick's wings or you could color in the body with pieces of scrap yellow paper or construction paper. You could even add some clean eggshell around the bottom of the chick if you liked.
Washi tape – For an alternative to paint or glue try tearing strips of colored washi tape and use those to decorate your chick, orange or yellow would obviously be ideal and keep an eye out for some patterned designs too.
More Chick Crafts for Kids
These cute little chicks that I made with my daughter are one of our most popular Easter crafts and we had lots of fun making them too. If you'd prefer you could even adapt this chick craft to use the same painting technique as we've used here but try it with the printable on this page if you'd like it to have an outline to it.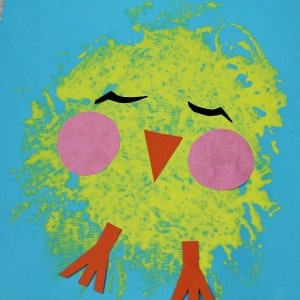 This doily chick craft is a fun way to use up any old doilies you have lurking around, just add on some cardstock or paper wings.
This super simple paper plate chick craft is make using a paint splat so it's a really easy activity that even toddlers and kindergarteners can get involved with.
How To Get and Print Your Chick Template
To get your free chick templates just subscribe below in the box. We won't send you spam and you can unsubscribe at any time.
Once you've confirmed your email address your template will be delivered to your inbox as a free gift.
Please make sure to check ALL your email folders for the confirmation email and make sure you press the confirm subscription button.