Ready for some Easter fun? This free Easter bunny template is perfect for coloring or some simple Easter crafts with your child.
You can download and print as many copies of this cute PDF as you like so it's perfect for trying out a few ideas at home, for some easy Easter activities in a preschool or classroom or even for making signs for your Easter egg hunt!
RELATED IDEAS: Free Easter Printables
What You'll Find on This Page
Free Easter Bunny Template
Easter is nearly here and we're getting ready for the festivities with this super sweet template showing a bunny holding an Easter egg.
It's perfect for coloring or as a simple template to help you make some Easter crafts with your child whether you're at home, school or need something to brighten up your bulletin board.Why not design your own Easter egg?
If you'd like to make a bunny craft without an egg then why not check out our bunny rabbit template which has the same cute bunny on it but without an egg. It also has two designs so you can choose if you want a bunny face included or not.
I love sharing free craft templates like this because they make it easy for you to get creative with your child. You'll find some ideas below for ways that you can use this printable but I'm sure you'll come up with lots more ideas too!
You can get this template at the bottom of this post by subscribing the free Crafts on Sea newsletter, we won't spam you and you can unsubscribe at any time – we do send lots of printables like this though which are perfect for keeping your kids entertained!
Easter Bunny Craft Ideas
Coloring
This is always the easiest activity to set up and it's a great one to keep younger kids occupied too. This Easter bunny makes great Easter coloring pages so all you need to do is grab your markers, coloring pencils or crayons.
Mosaic
Making a mosaic is one of our favourite ways to decorate things as it's a great way to practice using scissors and also  use up any bits of scrap paper or construction paper that you have around your home. Look for bright spring colors or heck out old magazines for cheerful patterns that you can cut up to decorate your bunny's egg.
Add a 3D bunny tail
For an easy Easter craft that doesn't need loads of craft supplies grab the glue and a cotton ball or pom pom to pop a cute fuzzy tail onto your bunny craft
Make a bunny banner
Making a banner is a good way to make some simple Easter decorations if you are working with a group or in a classroom. Once you have colored in your bunny templates carefully cut them out and then you can tape some string or bakers twine across the back of them so that they can be hung up together.
Make a nature craft
We've taken our template outside to make this cute Easter nature craft. Grab our tips on how to make sure that your natural materials stick, this activity is super cute!
Stickers
Stickers are another great way that you can decorate your bunny's Easter egg together. Yo could go for simple shapes like stars or dots or for something a bit more seasonal why not look out for some Eater themed stickers to add to your picture?
Signs for your Easter egg hunt
If you are holding an Easter egg hunt for your kids this year then you could use this template to make some cute signs. Print the template out onto white cardstock to make it a bit more durable and then add write your instructions onto the egg. If your sign needs to be outside for a while you could also laminate it if you wish.
More Easter Crafts for Kids
For a paper plate Easter bunny with a difference why not try making this cute rabbit that your little one can play with too? This rabbit craft is a great way to practice scissor skills and you could also hang it up as a decoration if you like.
I love this easy chick craft, it's one that I made with my daughter when she was in preschool and is good as an easy spring craft once you've finished all the Easter themed stuff too.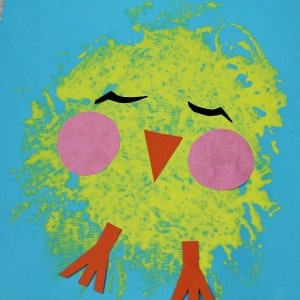 Easter cards are a great way to share the fun with someone else and our Easter card template comes with three different designs to print and color.
How To Get Your Free Printable Easter Bunny
To get your free Easter bunny template just subscribe below in the box. We won't send you spam and you can unsubscribe at any time.
Once you've confirmed your email address your template will be delivered to your inbox as a free gift.
Please make sure to check ALL your email folders for the confirmation email and make sure you press the confirm subscription button.