Looking for some simple fall crafts for kids? We've got you covered with this collage acorn craft that's super easy to make.
You can use our free printable acorn template for this activity and it's a great craft for keeping spending low as well because you can raid your cupboards for supplies that you can use as craft materials. Scrap paper, cardboard and natural materials are all perfect!

RELATED IDEAS – Fall Activities for Toddlers
What You'll Find on This Page
Acorn Craft
Acorn crafts are perfect for fall and this one is so simple it's perfect for younger kids like preschoolers to join in with too.
Collages are a great way to use up any spare materials that you have around your house but if you don't have a ton of scrap paper just sat there then why not get outdoors and see what natural materials you could use for this. Leaves, bark, twigs and even bits of moss could work really well.
Another great things about collages is the different experiences they allow for, whether that's tearing paper, cutting cardboard or scrunching tissue paper so grab this excuse for making some hands on acorn art and have some fun together.
Free Acorn Template
You can of course draw your own acorn for this activity but if you'd like to print something out instead then make sure you download our acorn template which is the one I've used for this craft.
You can print as many copies of it as you like which also means it's helpful if you are doing this activity with a group either at home or in a preschool or classroom.
Craft Supplies
Acorn Template
Double sided tape or glue
Collage materials – scrap paper, cardboard, tissue paper, leaves, feathers, dried pasta, acorn shells, scrap material, yarn, pumpkin seeds etc
Acorn Collage Craft
Print out your acorn template on to paper or cardstock. As a rule cardstock is better if you are likely to be using a lot of glue or heavy materials for your collage so you are not at risk of your craft tearing.
Cover your acorn outline in glue or double sided tape. I tend to use double sided tape as it holds the craft materials really well and you don't need to worry about glue drying before moving your artwork.
However the downside of it is that it really does stick paper and card well so once you've placed your collage materials down you probably won't be able to move them at all. It's also a bit tricky for kids to use unlike glue which can be poured quite easily.
Cover your acorn in your craft materials. I've used shredded paper from a delivery I had for the acorn shell and then different materials for the nut but obviously you can decorate it whatever way you like and your art will depend on what materials you have available.
You can tear your collage materials or use scissors to cut them to size while other items, like pasta shapes will be fine to glue on whole.
More Fall Activities for Kids
There are loads of free resources on this site to help encourage creativity. We've got lots of fall tree painting ideas that you can try using our tree template and it's another great activity for making the most pf materials that you already own.
Our acorn painting activity is another one that can use our acorn template and is some fun process art that I made with my son when he was in preschool.
These fall leaf suncatchers are also surprisingly easy to make and a fun way to learn about color mixing too.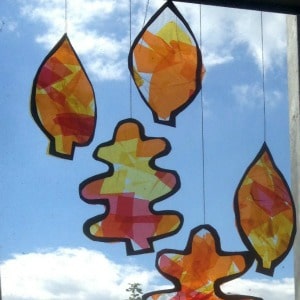 Easy Acorn Craft
Use collage to make this simple fall craft that's perfect for preschoolers and kindergarteners.
Print
Pin
Rate
Materials
Acorn template

Double sided tape or glue

Collage materials

leaves, scrap paper, cardboard, shredded paper, felt etc
Instructions
Print your acorn template onto paper or cardstock.

Cover your acorn shape in double sided tape or glue.

Color your acorn in by gluing on your collage materials.
Notes
While you can use any colors for this activity browns, reds, greens and oranges will look more autumnal.
Tried this?
Mention @craftsonsea - we'd love to see and maybe share it!