This ghost craft is so easy to make and using our ghost template makes it even easier to prepare. Perfect for a simple Halloween craft you can paint with your kids that you'll want to display on their wall.
We have included affiliate links to some of the products and resources and as an associate we may earn from qualifying purchases
What You'll Find on This Page
What Is Resist Art?
Resist art is basically when you use something such as glue, tape, stickers or wax to 'resist' your paint, meaning that part of your art work is left uncovered. Anther way of describing it would be to say that it creates negative space.
For this craft I've used paper to resist the paint but for another example of resist art for kids you could check out Arty Crafty Kids wax resist art.
How to Stick Your Template Down (Without it Tearing the Paper!)
To stick paper without it sticking too much I always go for washi tape. Sellotape I normally find is just that bit too sticky and when you try to pull it off it has a tendency to pull bits of the paper with it and you don't want a hole in the middle of your ghost.
I've also tried blue tac but the problem with this is the size of it as it lifts the paper higher up, meaning that your ghost won't have such a clean edge to it. Not a major issue, but still not ideal.
If you're using a new washi tape you might want to test it first but normally I just make a loop with a piece (sticky side out) and this holds the paper in place.
Free Ghost Template
I've shared lots of free templates for kids crafts with ideas for every season, each template has ideas on how to use them too, or of course you can just use them for colouring in. Our ghost template is free so make sure you grab it for this craft.
Equipment
Scissors

Washi tape

Reusable plate

Black pen

Kids paints - black and blue
Materials
Ghost template

Kitchen foil

White paper or card

Coloured paper
Instructions
Print your copy of the ghost template, I've used coloured paper for this to help differentiate the different paper.

Cut the ghost template out.

Take a couple of pieces of washi tape and roll these into loops. Stick these onto the back of your template and use it to stick the template down onto your white piece of paper.

Pour black and blue paints onto your reusable plate. Scrunch your foil up into a ball and dip this into the paint then use it to paint all around your ghost.

Once you have finished painting you can remove the template and washi tape from your piece of paper. If you would like to give your ghost a face then you can do this using a black pen.
Notes
I've used black and blue paints but of course you can use whatever you have to hand. Green and purple would be good for Halloween too.
I've used blue paper to print out my template as this helps to show the difference between that and the paper below but if you don't have coloured paper you can of course just use a second piece of white paper.
Tried this?
Mention @craftsonsea - we'd love to see and maybe share it!
More Ghost Crafts For Kids
This ghost footprint craft makes a cute keepsake.
Make this super easy ghost craft for kids which has been massively popular with parents.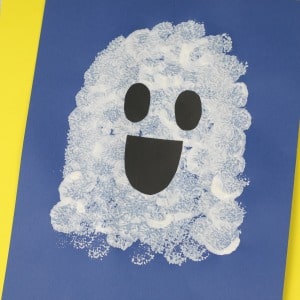 Create a moveable ghost paper plate craft and let your ghost fly through the night sky.