Whether you have tons of snow where you are or none, this free printable snow globe template is perfect for creating some easy winter and Christmas themed crafts with your child.
There are two designs with slight changes to each one on the PDF that you can download so that you can choose which one suits your craft, art or activity best.
I'm also sharing some fun snow globe craft ideas that you could make with these printables too.
What You'll Find on This Page
Snow Globe Templates
There are so many ways that you could create your own snowglobes with this template, I've shared lots below but I'm certain that once you get started you'll come up with tons more ideas yourself as it's really versatile!
These would make great decorations on a classroom bulletin board or of course just as a fun craft to do at home.
Being a full page snow globe with a simple outline also means that it's one that's suitable for lots of different age groups and you can adapt what you want to do depending on the age of your kids.
Toddlers, kindergarteners and preschoolers can paint with q-tips or pom poms while older kids can manage more intricate designs.
You can get these templates at the bottom of this page by subscribing the free Crafts on Sea newsletter, we won't spam you and you can unsubscribe at any time – we do send lots of printables like this though which are perfect for keeping your kids entertained!
What Should I Print My Templates On?
For most crafts paper is absolutely fine but if you're going for an activity that uses a lot of paint or glue then I would recommend using cardstock in your printer instead so that it doesn't get too saturated – you don't want your kids masterpiece to rip.
One choice that you might like to make is whether to use blue or white paper for your craft.
White is obviously more readily available but if you want to make snow with white paint for your craft then this obviously won't show, in this case I'd recommend printing your template onto blue paper instead.
Of course you can use pale blue to represent snow too, we've done this lots of times and it's absolutely fine if you're using white paper.
Snow Globe Craft Ideas
Coloring – Always the most simple idea and perfect for those days when you don't want to get the paints out or have too much to prepare before you get started. Grab the markers or crayons and create your own design using this as a snow globe coloring page. You could draw a winter scene, a snowman or even yourself in the snow globe. Don't forget to colour in your snow globe base too.
Q-Tips – use a q-tip (cotton bud) dipped in white paint to make snowflakes from dots of snow all around the inside of your snow globe craft template.
Stickers – Stickers are always popular with kids and they can be great for fine motor skills too. You could use them on the inside of your globe or use them to decorate the background.
Clear plastic plates – If you have some of these at home then you could glue them over the main part of your globe to make a 3D effect.
Re-use old Christmas cards – Saving old Christmas cards is something a lot of parents and schools do, have a hunt for winter themed pictures such as penguins and deer's which you can cut out and glue into your globe.
Cotton balls – Use cotton wool balls to make snowflakes or unravel a cotton ball and use it to make a layer of snow at the bottom of your globe.
Pom poms – Dab your pom pom in white paint and then dab it onto your template to make snowball shapes.
Photos – Make a photo snow globe craft by cutting a picture of your child out using scissors and sticking in inside your snow globe. This would look good if they are standing on the snow and of course you can add some more details to the picture yourself like snowflakes falling from the sky or snow topped trees in the background.
More Printables for Snow Crafts
We have loads of free printables for kids crafts and activities so you can keep your kids having fun without you having to spend loads of money.
As well as this template we also have a separate snow globe activity pack for kids that you might like, it includes a word search, a word scramble and lots of  cute coloring pages.
Our free snowflake templates are also really popular and we've shared lots of ways that you could use them too.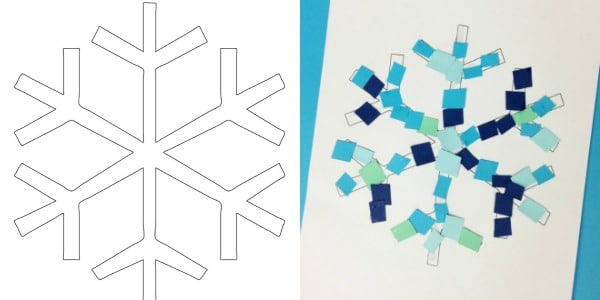 Finally we have lots of Christmas card ideas for kids to make, this free printable snowman card is a favourite and has a few different designs to choose from too.
Free Snow Globe Printable
To get your free snow globe templates just subscribe below in the box. We won't send you spam and you can unsubscribe at any time.
Once you've confirmed your email address your template will be delivered to your inbox as a free gift.